The Maldives is generally associated with honeymoons and romance, and why wouldn't it be, given that it has all the otherworldly components to make it an ideal destination to walk hand in hand, and take stunning photographs and enjoy mother nature's most wonderful creations.
If you get a chance to visit the Maldives, it will be a trip you will never forget, but despite it being a perfect place to relax, there are a host of attractions you can feast your eyes on – so let us delve right in.
1. China-Maldives Friendship Bridge
This 1.39km (0.86miles) bridge, also known as Sinamale bridge connects the islands of Male, Hulehule, and Hulhumale, so if you are an architectural enthusiast or just want to discover something cool, then you need to pay a visit here. Given that many international flights arrive in Male, the capital of the Maldives, you may see this bridge on your way to your final destination, but if you get close be sure to take in the sheer sight of this impressive construction.
No trip is complete without enjoying the local cuisine and for the Maldives – being a chain of islands, you can imagine that the fish scene here is thriving. Make your way to the Fish Market in Male, to see this bustling epicenter of the most important industry in the region. Given that about 30% of the population work in this industry, you will get a look into the life of a local, with a trip to the market.
How could we have a list of the top attractions in the Maldives without adding in the phenomenal beaches which captivate every visitor here? Famous for their fine white sand and incredibly crystal-clear waters, the beaches of the Maldives are somewhere you will most likely spend a good chunk of time. Be sure to check out Thoondu Beach, Veligandu Island Beach as well as Hulhumale Beach. This ultimate island hopping experience in the Maldives will take you to a host of stunning beaches and islands, ideal if you want to see as many places in a short time.
4. Eedhigali Kilhi & Kottey Protected Area
This haven for birdwatchers, consists of a lake with many observation decks, allowing you to enjoy the vast surroundings of this unique landscape. Making up 570 hectares of the protected area as well as being home to the largest lake in the country, Eedhigali scenic reserve is an ideal place for the wild nature lover and those looking for something aside from the beach to marvel at.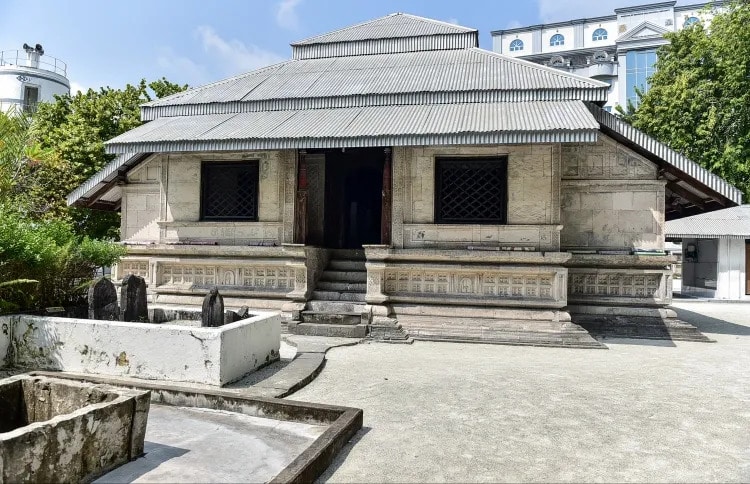 In the city of Male, you will come across the oldest and most ornate mosque which is still in use today. This is a grand stop-off while touring the city and if you are into history then this place should be at the top of your list. Known for its impressive construction and unique example of the sea creature architectural style, it is no wonder this impressive monument was added to UNESCO in 2008. This cultural tour will take you on a city discovery, including a visit to this stunning mosque.
If you are visiting the Maldives, you may well be staying in one of these iconic overwater villas, but if you aren't, then you need to check out these stunning bungalows, which have become the symbol of the islands. Two-thirds of the South Pacific overwater villas are located in the Maldives alone, so even if you don't actively look for them, you will certainly spot them during your trip – and what a sight they are to see. If you fancy checking out some of the best and most luxurious overwater bungalows, pay a visit to Soneva Jani, Anantara Veli, or Veligandu Resort & Spa, all of which ooze five-star luxury.
The islands of the Maldives are world-famous for the incredible diversity of marine life, with over 2,000 types of fish, a variety of coral and turtles to be found, making this one of the top attractions for those holidaying in the Maldives. You can expect to find a whole host of impressive creatures and it is not uncommon to spot manta rays, reef sharks, whale sharks as well as moray eels and so much more. If you love spending time in the water, you will be in your element in the Maldives, where you can spot a different variety of marine life almost every day, just make sure to be on the lookout. This marine life and the conservation-inspired trip will ensure you get to see and learn about all things underwater.
8. Ithaa underwater restaurant
One of the best and most unique attractions of the Maldives has to be the Ithaa underwater restaurant which was the first of its kind in the world, and although you may have seen photos of this dreamlike eatery, you need to feast your eyes on this in real life. Located at the Conrad Rangali Resort, the Ithaa underwater restaurant provides a fine dining experience, while being surrounded by panoramic under the ocean views – a dream experience.
9. Soneva Fushi Observatory
If star gazing is something you are passionate about, then you cannot miss a visit to the Soneva Fushi Observatory, which is located at the Soneva Fushi Resort & Six Senses Spa. This observatory gives you a great (and very romantic) stargazing experience, with in-depth knowledge from their resident astronomers – they even welcomed Buzz Aldrin at one time. If that is not enough, they even offer astronomical-themed experiences here too such as the sunrise astronomical breakfast and the star gazing astronomical dinner cruise.
10. Male – the world's smallest capital
As the world's smallest capital, Male draws many tourists to its bustling streets, not just because they have to arrive there to start their dream vacation, but many opt to spend a day or two either at the beginning or at the end to take in all that the city has to offer. Here you can get a real insight into the history of one of the most densely populated cities on the planet while discovering its colorful buildings and delightful scenery and one of the best ways to discover Male is with a local Destination Expert.