Featuring rugged mountains, a vast coastline, vibrant culture, and bustling cities, as well as the desert to explore, it is no wonder Morocco is calling out to everyone who has the urge for adventure.
This is the country where you can go surfing, take a cooking class, climb the tallest mountains, discover the history, and marvel at dunes, all on one journey – and doesn't that sound like a dream destination? Morocco has a host of attractions to keep you busy, and if you haven't been to this great country before, you might be wondering where is the best place to start and the main things you should be ticking off your list.
Well, we are here to give you a rundown of the top attractions in Morocco, but we highly encourage you to take advantage of the knowledge of your local 'Destination Expert in Morocco' who knows Morocco like the back of their hand. Let us show you what Morocco is all about, so you know what adventures await you.
Here are the 10 best attractions in Morocco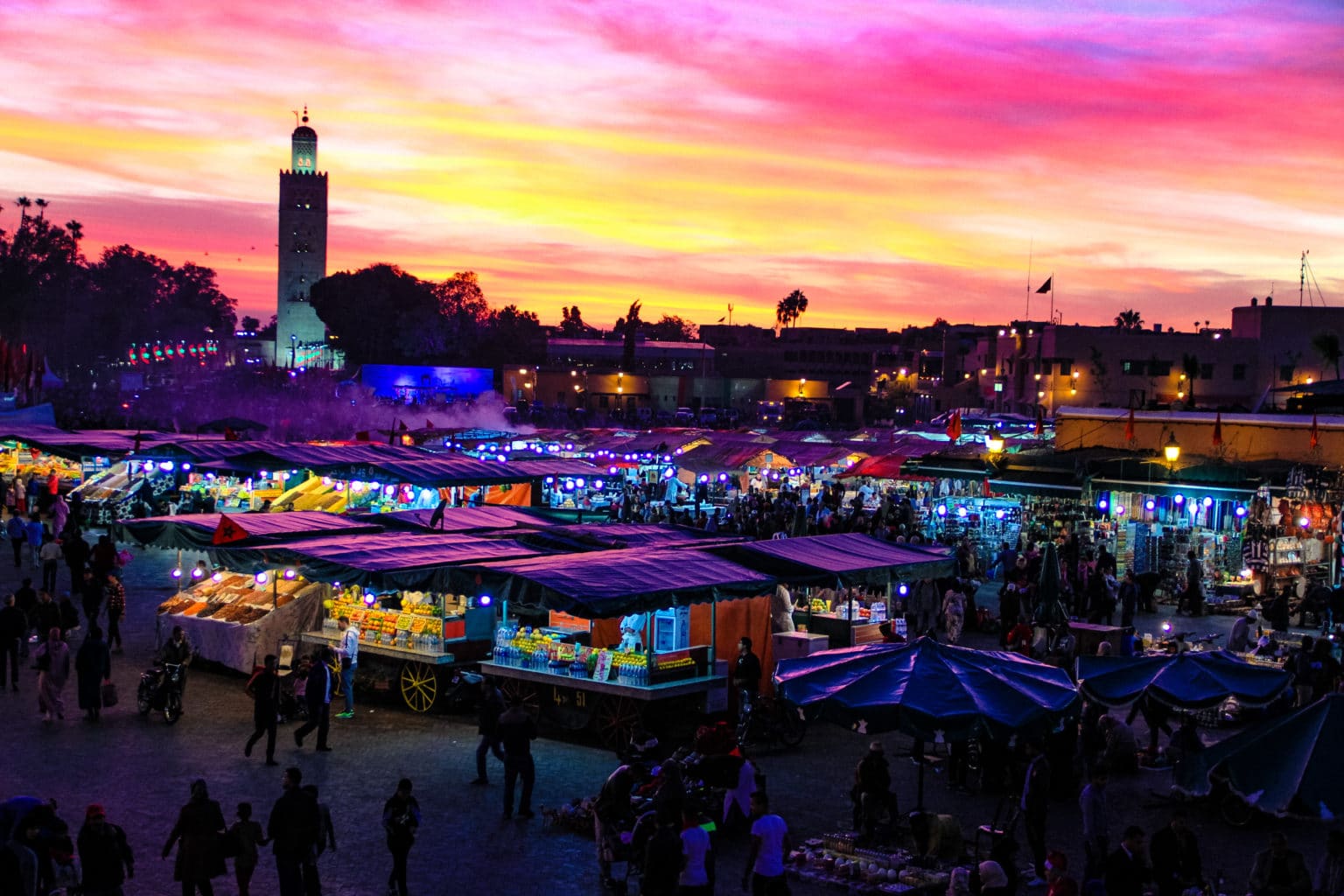 Known as The Red City, this vibrant and colorful city oozes culture, especially if you make your way to the Marrakech medina, the old town and a haven for photographers and history buffs. This is one of the largest and most visited cities in Morocco for great reason. And you can easily spend days here just exploring the souks, the architecture, the narrow streets, the local food, and everything in between, so be sure to allow enough time to be engrossed in this beautiful destination.

Many tours will include a trip to Marrakech, and here is a fantastic one to consider – the Grand Tour of Morocco.
This mountain range is located in central Morocco and features heavily on many tourists' itineraries, especially those who like hiking and the great outdoors. The western section of the range features the highest peaks towering over you at 4,000m (13,000ft) tall. Not only is this a haven for hikers, but there are many exciting climbing opportunities here, too, if that is your hobby. This eco-friendly tour in Morocco takes you to a host of Moroccan attractions and deep into the Atlas Mountains. And this epic Toubkal summit experience is a must for those who want a challenge.
If you are planning a trip to Morocco, you might already have that iconic desert image in your mind, and that is what you will encounter when you visit Erg Chebbi, with its impressive dunes and otherworldly landscape. Formed by blowing sand, these are among several dunes in the country but rank as one of the most visited, with the nearby town of Merzouga being the base for many adventures here. There is a range of activities you can opt for here and camping overnight under the stars, which offer a fantastic experience.
This Moroccan city is one of the most visited, especially for those who want to step back in time within the city walls. Fes is a UNESCO World Heritage Site, and when has UNESCO ever got it wrong? Many people travel here to see the maze-like streets, which take you back to the Medieval era, the traditional tanneries, and the oldest & largest medina in North Africa (so try not to get lost). No trip to Morocco is complete without a visit to Fes and all its wonders, so why not consider this fabulous tour to Fes.
This iconic blue city is what people picture when they think of Morocco, and this is undoubtedly a photographer's dream, with an image that just cannot be compared to anywhere else. Of course, it remains a mystery why these houses are all painted blue, but this is a top attraction in Chefchaouen, even if the story remains untold.

Nestled in the Rif mountains, you will find that there is much to do in this area, and there are a host of hotels, restaurants, and awe-inspiring buildings to give your attention to, which is why a minimum of two days is recommended here.
When arriving in the seaside town of Essaouira, one of the country's biggest attractions, you will instantly notice the laid-back vibe, which is a world away from the bustling medinas of Marrakech or Fes, and this is what makes this place so unique. This is a beautiful place where people love to enjoy wandering the streets, shopping for local crafts, and enjoying the scenery. It provides an outstanding balance on any trip to Morocco.
Having been a UNESCO World Heritage Site since 1987, this place has undoubtedly gotten the recognition it deserves, considering it is an excellent example of traditional Moroccan earthen clay architecture, which makes it stand out from the crowd. Moreover, this historic fortified village is on everybody's Moroccan bucket list, located along the famous caravan route, which runs from the Sahara to Marrakech.
As the most northerly of the Moroccan mountain ranges, the Rif Mountains are a prime location for hiking in the country, featuring some of the world's best hikes, treks, walks, climbs, and nature and adventure lovers are attracted to the region for this reason. Although the range doesn't have tall peaks like the Toubkal Region or deep gorges like the Atlas Mountains, it does have a more laid-back feel and is accessible to everyone who wants to be one with nature. In addition, there is a range of tours in Marocco to choose from if the Rif mountains are on your schedule.
As one of Morocco's most untouched dunes and an immense golden sand sea, Erd Chegaga still beholds a sense of magic, encouraging those who want to get off the beaten track to visit here. This landscape offers an awe-inspiring horizon, featuring out-of-this-world sunrises and sunsets, which you cannot miss out on. This is an incredible place to get a real sense of Moroccan culture and see the real desert side of this vibrant country, making it a top spot for adventurers to journey to.
10: Casablanca's Hassan II Mosque
This epic tour to Marocco encompasses everything you could hope to see in Casablanca and much more, with one of the main attractions being the ultra-impressive Hassan II Mosque. As the biggest mosque outside of Mecca and the seventh biggest on the planet, this inspiring monument attracts tourists worldwide who want to see it in all its glory. Its minaret is the tallest in the world, standing high at 210m (689ft), and is a true sight to behold.