Knowing when is the best time to travel to a country is integral to making a trip memorable and stress-free. There are also many festivals in Chile, just like every other country globally, so it is essential to know when these are happening throughout the year, so you don't miss out on them.
Local 'Destination Experts' are the ultimate way to get to know a country, get tips, tricks, and advice, and find out when these local festivals are. If you are looking to have the experience of a lifetime, there is no better event than a South American fiesta, and Chile is a country that is no exception. First and foremost, let us look at the seasons, best times to travel to, and the local holidays in Chile to get you started.
Chile is the longest and narrowest country in the world, so as you can imagine, the weather might differ from place to place, and of course depends on the regions you plan to go to, the activities you plan to do and everything in between. Perhaps you only have time to travel at a particular time of the year, well, you can still travel there, but maybe another region might be a better option for that season. Let us give you an overall look at the climate and seasons in Chile.
Summer – December to February
Autumn – March to May
Winter – June to August
Spring – September to November


When it comes to the climates in Chile, there is a vast range of weather conditions. Some of the main climates are Tropical (Easter Island), Dry Arid (Atacama Desert), Mediterranean (Central Chile), Temperate Oceanic (Zona Sur), and Subpolar Oceanic (Zona Austral), so it depends on where you are going and at what time of the year.


December to February is the best time to go stargazing in Chile and, in particular, the Atacama Desert, which has some of the clearest skies in the world. However, if you travel in January, be prepared for crowds, as this is the peak month, so if you prefer, fewer crowds travel before or after the peak season.
November to February are the best months for outdoor adventure, but the best time for this and beating the crowds are the months of September/October or March/April.
This might be the ultimate trip to inspire some outdoor adventure in Chile.
June to August is the best time to go skiing or snowboarding in Chile, and knowing that it has the largest ski resort in the Southern Hemisphere, means you will not want to miss out on a ski experience here. As this is a short window, book ahead to avoid disappointment.
In general, October to March is the warmest time to go to the region of Chilean Patagonia, where you will find pleasant summer temperatures and clear blue skies.

The best time to go to Easter Island is either October and December or April and June when you will find fewer people but still have glorious weather to discover all that this island has to offer. With lesser crowds, you might find it an easier time to get booked onto tours and flights, as it takes around 5 or 6 hours from Santiago to Easter Island, so plan well ahead.
Local Holidays & Festivals
When it comes to local holidays and festivals, there are a few prominent events to know about when traveling to Chile. This will significantly impact your trip because you will get to know the culture by contacting involved in the local festivals. Also, you won't get caught out when things are closed on 'official holidays, which has happened to everyone at one time or another. Let's look at some of the main festivals Chile has to offer.
If you plan a trip to Easter Island in February, you will be pleasantly surprised to know that they celebrate the Tapati Festival over ten days at Rapa Nui. This is a genuine cultural festival, with some excellent and quirky things going on throughout, including Haka Pei, which sees locals sliding down the side of a mountain on banana trunks.
Día de las Glorias Navales:
This official holiday commemorates the war of the Pacific and is held on May 21st every year. A common practice, especially by the coast, is to throw flowers into the sea, so if you see this happening in May, you will know what it is all about.
This is Chiles Independence Day, from Spain, which happens on September 18th each year, and involves lots of music, dancing, parades, cooking competitions, and so much more, spread out over a whole week.
Festival of the Virgin del Carmen:
From July 12th to 18th, this festival commemorates patron saint Carmel, with a week full of festivities, music, dancing, and food, and wearing beautiful traditional masks.
In July in Chilean Patagonia, you will find the 'Snow Festival,' held in Puerto Williams each year. You will find people celebrating throughout the streets, and this is one not to be missed when in the region at this time of the year.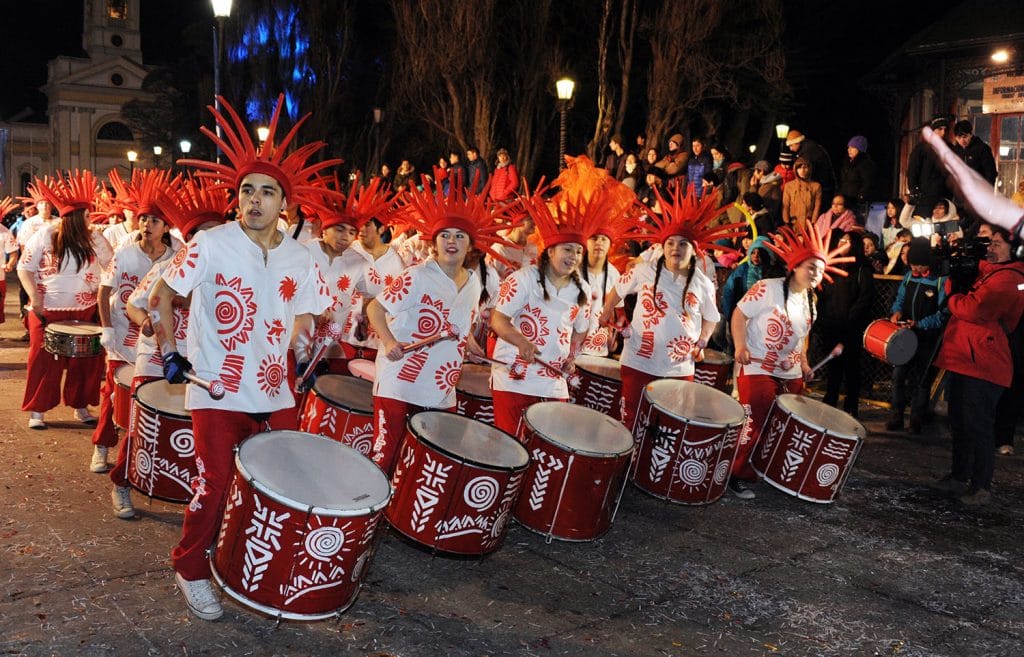 In July in Chilean Patagonia, you will find the 'Snow Festival,' held in Puerto Williams each year. You will find people celebrating throughout the streets, and this is one not to be missed when in the region at this time of the year.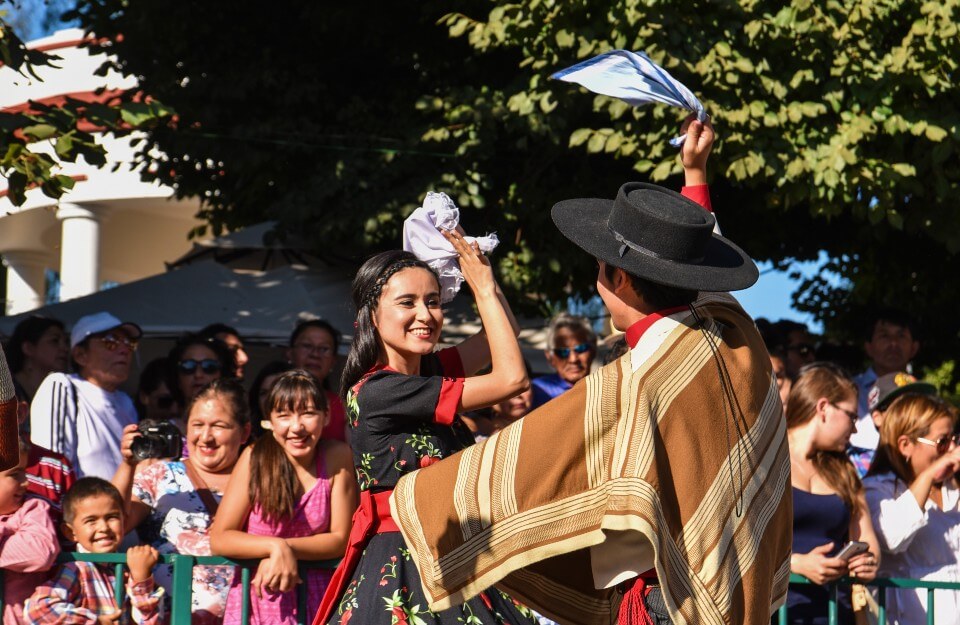 This festival which is held every April, is dedicated to all things art, including poetry, filmmaking, music, and paintings, and it is good to know that the National Council for Culture and the Arts sponsors all cultural events in Chile during this festival.
Feast of the Virgin of Andacollo:
Held around Christmas time between the 24th and 26th of December, Chile celebrates the Feast of the Virgin of Andacollo and Christmas itself. You will find dances and festivities in her honor and religious ceremonies.
Many countries worldwide celebrate New Year's, and Chile is no different. You will be in for a treat if you find yourself in Chile over the New Year period, but even more so if you are in the vibrant coastal town of Valparaiso, where the fireworks and celebrations are second to none.
Vina del Mar International Song Festival:
Held in February every year since 1960, this music and song festival draws music lovers worldwide and locally. It is so popular that it is often referred to as an important music event in the Americas, so this is one not to miss out on if you are here at the right time. It takes place in the Quinta Vergara Amphitheatre and starts around 10 pm, finishing late, around 3 am, but it will be worth the long night, considering you never know which big acts will appear.