Indulging in Mexican cuisine is a wonderful way to experience the country's culture and explore new dishes. Even if you have tried Mexican food in the United States, trying food inside Mexico allows for an exceptional and authentic experience.
When you think of Mexican food, you think of tacos, fajitas, burritos, quesadillas, and all that good stuff. Still, you bear in mind that many Mexican dishes we all know, and of course love, tend to be different outside of Mexico, and some are not Mexican at all, but rather TexMex.
But what if we told you that local Mexican food incorporates all of those ingredients that you know and love, but it is so much better and so much fresher.
Mexicans love to cook with chili peppers, lime juice, beans, corn, and many spices, so you can imagine that the dishes we are about to mention are must-tries for a reason. You will find fresh tacos, guacamole, quesadillas, and so many familiar dishes in most places, but the taste will be second to none because you will be at the source of some of the best cuisine in the world.
The flavors in Mexican cuisine are so delicious that you will not want to miss out on an opportunity to take a cooking class when in the country, something a Local in-Destination Expert can guide you towards. This is an excellent way to delve deeper into the culture and create some fantastic dishes along the way.
With that in mind, let us explore the local cuisine in Mexico, and of course, the must-eat dishes.
This is a patriotic dish because its bright colors replicate the Mexican flag. This dish is made of Poblano chilies filled with picadillo, topped off with a delicious walnut cream sauce.
This dish is typically served at room temperature and has a great story. Nuns created it in Puebla in 1821, who presented it to the General of the Mexican Army after he signed the treaty that recognized Mexico's independence from Spain.
So if there is one national dish that is imperative to try for cultural reasons, and of course taste – then this is it!
Elote is the name for Mexican street corn, and some even call it the best corn ever. You can often find vendors selling this treat on a stick, with either sour cream, chili powder, lime, butter, cheese, or mayonnaise, and it is savory, filling, and super tasty.
This snack is only served when sweet corn is in season, so depending on when you are there, this could either be easy to find or not.
Mole is a delicacy with rich flavors, traditionally a mix of chilies and dark chocolate to be precise, which might sound strange, but believe us when we say it is a must-try dish in Mexico.
The word 'mole' in modern-day Mexico refers to many types of sauces or dips, which aren't exactly like the original, for example, guacamole (mole with avocado), mole pipian (mole with squash seeds), or even mole almendrado (mole with almond). However, one of the most popular types is, of course, mole poblano.
There are so many types of moles on offer in Mexico, so be sure to try a wide variety.
Typical of the Yucatan peninsula, this popular dish amongst locals consists of easy braised pork served with tortillas and lime.
It is a slow-cooked pork stew marinated with orange juice, onion, and vinegar. It is great to try as part of a burrito or a taco.
Discover the beauty of Yucatán Peninsula by bike!
Tamales are an ancient delight made of corn masa, steamed in corn leaves. Typical fillings include cheese with peppers, shredded pork, beef, or chicken. It is then steamed in a corn husk or banana leaf, which can either be thrown away before eating or used as a plate, which sounds like a great idea and saves on the washing up.
An enchilada is a popular dish across Mexico, dating back to Mayan times when the people living in the Valley of Mexico would wrap fish in corn tortillas.
Made with your choice of beans or meat, it is often drizzled with mole and cheese, which make the perfect breakfast.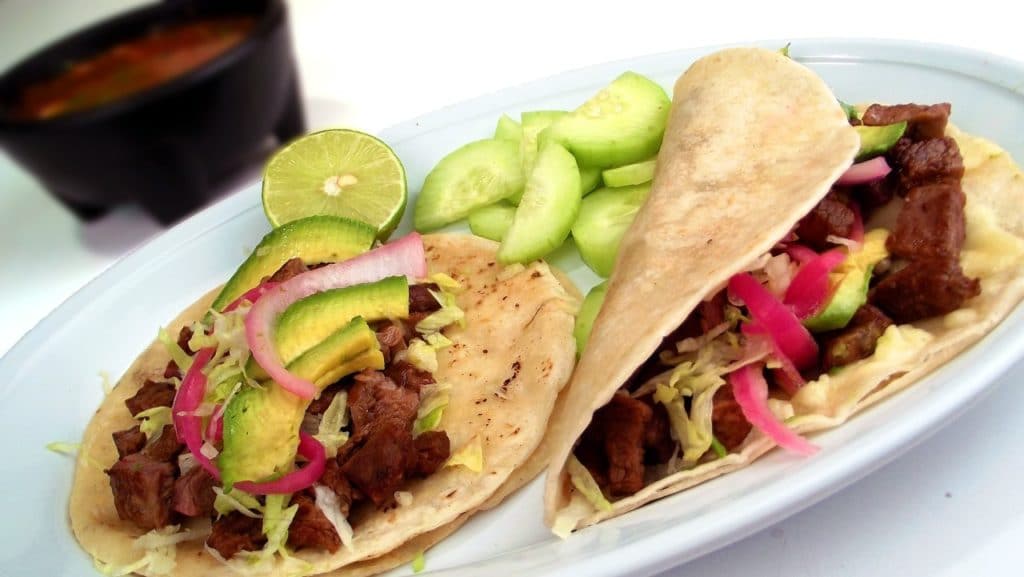 These tacos will put any other tacos you had ever had to shame, considering they are known as ancient tacos, dating back to the 1920s/30s when Syrian and Lebanese immigrants came to Mexico.
The taco consists of thin slices of pork, fresh from the spit, topped with onions, coriander, and pineapple, and is a delicious meal to try in Mexico.
You cannot leave Mexico without trying some authentic and fresh guacamole, and once you do, no other guacamole will ever compare.
In many restaurants, the waiters will come to your table and grind the ingredients in a bowl beside you, the freshest way to eat this side dish. This is one of the most popular Mexican dishes globally, but not many people are aware that it dates back to the time of the Aztecs.
The recipe usually consists of fresh avocados, chili, lime, onions, tomatoes, and sometimes garlic. It is served with fresh tortillas and can be eaten as a snack or side dish, although we wouldn't blame you for making a main meal out of this delicious dish.
If you plan to go to Mexico, chances are you will be staying more than one night, which means that there will be at least a few occasions where you will be on the hunt for a traditional Mexican breakfast – and here it is!
Chilaquiles consists of some true heart and delicious ingredients to set you up for the day including, fried tortilla slices topped with green or red salsa, scrambled eggs, refried beans, chicken, and cheese.