One of the best parts of traveling, aside from seeing some fantastic landscapes, meeting like-minded people, and broadening your horizons, is, of course, the food. If you are a food lover, Costa Rica will be right up your street, with its variety of fresh produce that grows throughout the island.
In addition, a country's cuisine is undoubtedly a highlight for many, as it gives a real insight into the country's history and culture and tickles your taste buds. 
But where do you begin?
Depending on the region of Costa Rica that you find yourself in, the food can vary, especially along the Caribbean coast, where you will find that the cuisine is heavily influenced by Afro Caribbean cuisine. However, when eating in Cost Rica, wherever it may be, you can rest assured that the food is healthy, fresh, and nutritionally well-balanced.
There are many dishes to try out in each region. One of the best ways to discover them is by chatting to locals, eating where the locals eat and asking servers to recommend local dishes. Still, as well as this, and by connecting with one of the Destination Experts in Costa Rica, you will get exactly this and much more. 
Below we have created a must-try food list to give you a head start when it comes to local dishes in Costa Rica. So here are 10 of the best local Costa Rican dishes that you must try.
Empanadas are so simple yet tasty and can be found throughout South and Central America. Whether you have a sweet tooth or are the savory kind, you will find an empanada to suit your palette, from cheese, meat, cabbage, picadillo, and beans to jam fruit or even custard.
They are a half-moon-shaped patty that can be either baked or fried, and can even be made simply at home if you have access to a kitchen on your travels. These are so quick and easy to make yet provide long-lasting satisfaction. 
This deliciously comforting dish is ideal for filling you up and has a base of ground beef/pork/chicken, depending on your preference. It is typical for Costa Rican empanadas but can also be served with corn tortillas or casados. 
The secret to the Picadillo is to mix the meat base with potato, green plantain, chayote (Latin American squash), and some arracacha (similar to a carrot) to give it that extra flavor. 
This is truly for the sweet tooth and can be enjoyed in the morning for breakfast, with a coffee in the afternoon, although there is no crime in having this whenever you feel like a piece of sweet heaven. 
Made with a local cheese known as Turrialba, sour milk, eggs, butter, freshly ground cornflour, and cinnamon, this is one of the must-try dishes in Costa Rica.
Ceviche is very popular in Costa Rica; despite it being a Peruvian dish, they like to put their own spin on it. With a coast on each side, the Costa Ricans are lucky to have access to some delicious, freshly caught fish which is the secret to the best ceviche, cilantro, onion, pepper, celery, salt, and pepper.
Locals like to make this at home using their most common fish known as Corvina, as well as octopus and prawns. If you are a seafood lover, you won't want to miss a fresh Costa Rican ceviche.
These ultra-sweet corn pancakes are a popular breakfast-time dish and go perfectly with a cup of famous Costa Rican coffee, as well as a dollop of sour cream if you want to counteract the sweetness a bit. 
They are made up of sweet corn, sugar, flour, vanilla, eggs, butter, and milk, which means they are sweet enough not to need any added syrup, honey, or icing sugar.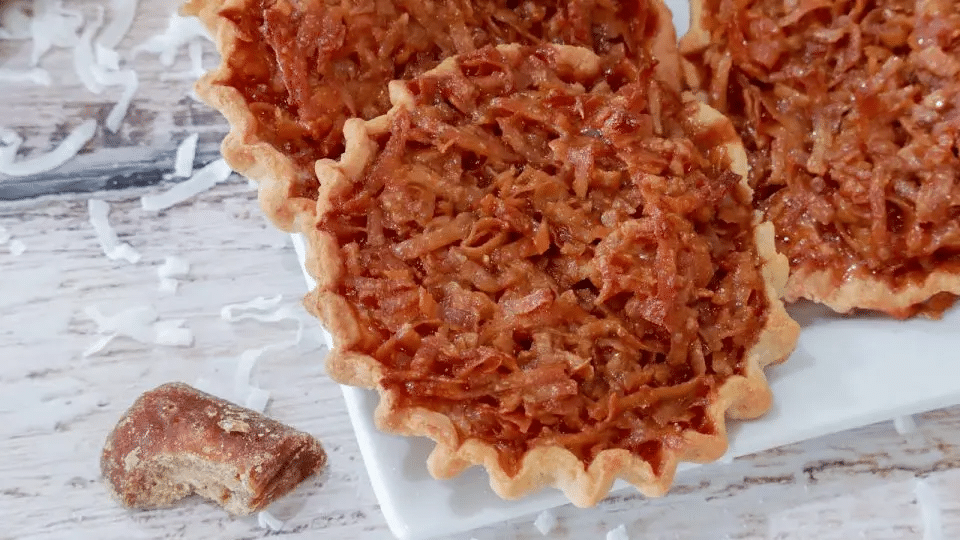 These sweet coconut treats can indeed not be eaten alone, hence why they always come in packets when you buy them. 
When you have one of these baked slices of heaven, you will know why this is. Tartaras Cocadas are made with flour, sugar, vanilla, nutmeg, and a chewy filling at the heart of these fantastic sweet treats.


This one goes down nicely with a cold beer, which is perfect because you will notice this on many menus in local bars. It is not a heavy meal but not quite a snack, but instead falls somewhere in the middle, and it is delicious. 
Chifrijo itself describes the main ingredients, chi being the chicharron (pork rinds) and frijoles being the beans. As well as the crispy pork and beans, you also have white rice, chimichurri, corn chips, and a few pieces of fresh avocado added to the mix. So how great does this local Costa Rican dish sound?
You will most likely spot this popular Costa Rican Street food around the region of Puntarenas along the Pacific Coast, and it is something you should grab if you are passing by. It consists of cabbage, cassava, tomatoes, onion, chili pepper, chicharron (crispy pork rind), and chimichurri sauce which completes the whole dish.
A trendy dish for locals to eat at lunchtime and Gallo Pinto is Casado, which is made up of separate rice, beans, meat/fish, or chicken and is served with a variety of side dishes that can vary from restaurant to restaurant. Knowing just this fact, you will know for sure that this is a meal for satisfying any hungry belly. 
Some typical side dishes can be salad, tortilla, fries, avocado, or even eggs and fried plantain, so order this meal when you are well and starving!


This has to be one of the most traditional Costa Rican dishes you can find, and believe us, you will find it almost everywhere in the country. Think of it as a comforting meat and vegetable Costa Rican stew, mainly consisting of cassava, yam, meat on the bone, pumpkin, sweet potatoes, and chayote (local squash) – basically all the hearty root vegetables. 
Enjoy this on a cold afternoon for lunch, just as the locals do, and be sure to try a variety of Gallo Pintos around the country to compare each region's way of making this unique dish.
So, if you thought Costa Rica was all about adventure, nature, volcanos, beaches, hiking, but not so much about food, then now you can add it to your list, because there are a lot of Costa Rican dishes to be discovered, and these are just ten of them.
Let your palette go wild in between adventuring across this fantastic destination, and why not even take a cooking class in this Coast to Coast Trip, The Highlights of Costa Rica. At the same time, you are there, so you can recreate these dishes for family and friends and relive your Costa Rican memories when you arrive home.