Colombians love their food, and you will, too, after a trip to this vibrant country. The cuisine is influenced by Spanish, Indigenous, and African cuisines, and you will notice as you travel around dishes also vary from region to region. So if you are a food lover, coffee lover, or fresh fruit lover, you will be spoiled for choice in Colombia, where you will find only the best.
Let us give you an idea of what to expect from Colombian cuisine and the best dishes to try along the way. One thing is for sure, if you find yourself going weak at the knees when you smell a delicious meal, then you most certainly have to get involved in a culinary-focused tour while in Colombia, especially the Colombian Gastronomy tour which is an 11-day food and travel trip.
You will find many traditional dishes in Colombia which feature the usual ingredients typical of this part of the world, such as beef, pork, chicken, or fish, together with rice, beans, or potatoes, all of which create a hearty variety of meals. One of the absolute best things about Colombia is the abundance of fresh fruit, and you will be spoilt for choice if you are a fan of tropical fruits. There is a wide range of food options in Colombia, from typical meals in restaurants to typical street food you'll find all over the country and everything in between.
Here is the scoop on the best dishes to look for during your Colombian adventure.
These little doughy delights can be found everywhere in Colombia, and rightly so, considering they date back to Pre-Colombian times. It is made up of ground corn dough and is a highly versatile food paired with many ingredients such as corn, cheese, egg, or meat for a hearty, savory snack. Arepas are to Colombia what tortillas are to Mexico, and you will find them served with every meal, so you will have many chances to try them with various toppings and fillings.
This super tasty and super popular snack is typical of Latin America, especially Colombia, where it can be seen everywhere, especially at street vendors. It is essentially a deep-fried pork belly that hails from the Andean region of Colombia, but it is not something to eat every day due to its high-fat content.

In saying that, though, it is delicious and makes for a great snack food – once in a while.
These fried dough balls might look like doughnuts, but they are savory and generally filled with cheese in Colombia, which tends to be crispy on the outside and fluffy on the inside- cooked to perfection, that is. It can be found at many street vendors and is heavy on calories due to the deep-frying method.
Empanadas have to be the most famous snack in all of Latin America, and although they may appear the same in each country, except for the size on occasion, the fillings generally differ from country to country and between regions, which make it such a great local snack to try. In Colombia, fried empanadas are filled with ground beef and sometimes chicken and topped with some local salsa.
These are a mix of chopped sausages, served with a variety of sauces, which make for a handy snack on the go, but if you are brave enough, why not go for the 'Morcilla,' which is a Spanish type of blood sausage also found in Colombia, with a somewhat acquired taste. Please don't say we didn't warn you!
If it is not the deep-fried goodness you are after, you should make your way to one of the many fruits stands you will come across and get yourself some fresh tropical fruits from Colombia. You will find exotic fruits such as Passionfruit (Maracujá), Gulupa, Uchuva, Zapote, Pitaya (Dragon Fruit), Mangosteen, and Banana Passion Fruit, all of which must be tried at least once. There are more where this came from, but we don't want to spoil the discovery.
This hearty potato soup comes from Bogota and makes for a lovely starter or main dish if you have a small appetite.
If it's a typical Colombian breakfast you fancy trying, then Changua is the one to go for. Loved by many locals, this milk and egg soup is a typical breakfast dish you will find all over the country. This is perfect as a morning meal, but it is renowned locally for being a hangover cure, with many people eating it as a late-night snack, after a night out on the town. So it's worth a try!
This traditional Colombian stew is the main dish you should try at least once on your travels, as it includes ingredients like meat, traditional broth, herbs, corn, and a mix of vegetables. There are variations around the country, with a chicken version being typical of the mountain areas and the fish version being standard of the coastal regions, meaning you will have many chances to try different types of Sancocho. It is generally paired with a side of rice, avocado, and a special hot sauce.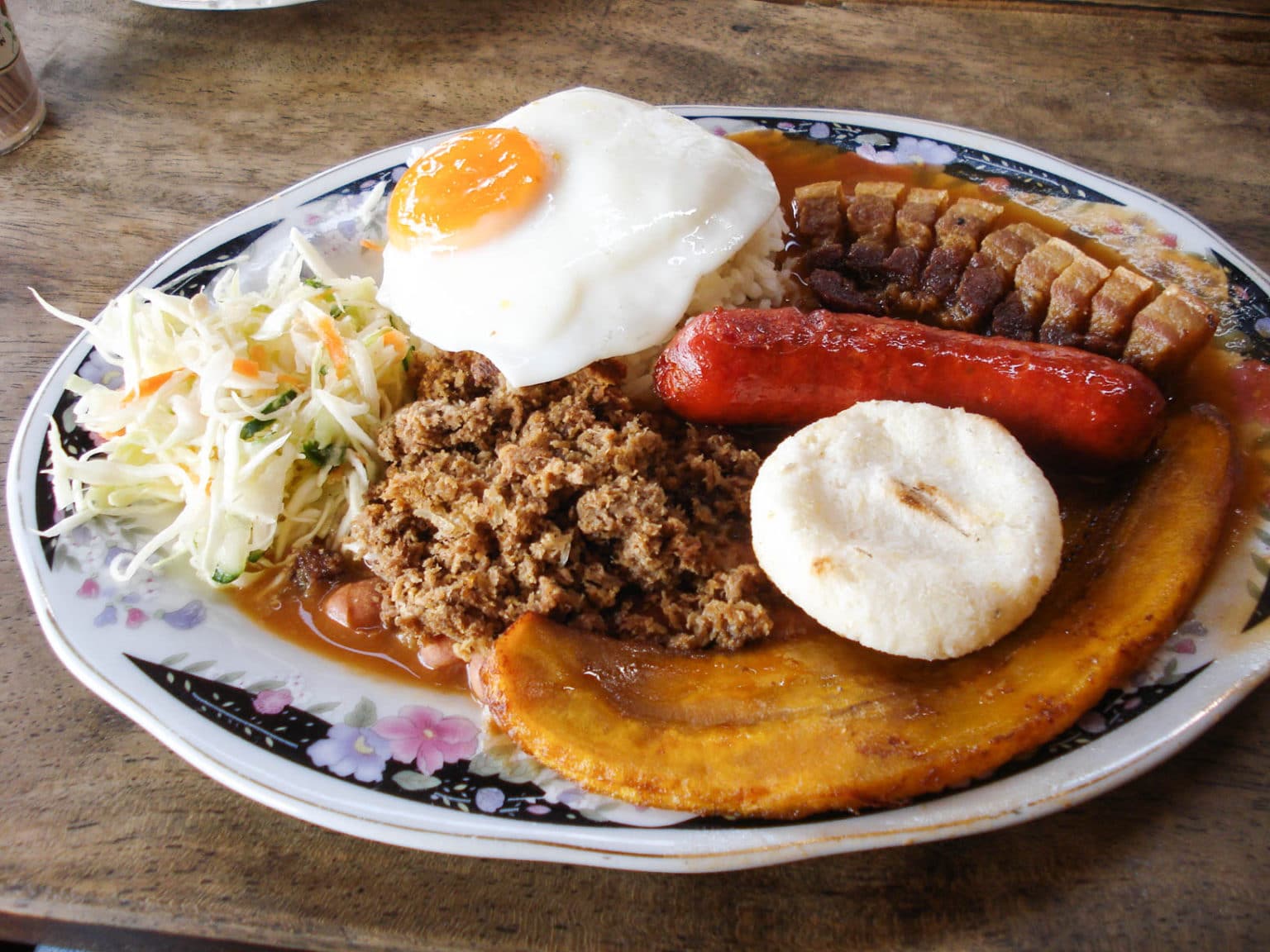 Translating as 'Paisa Platter,' this is a top-rated meal in Colombian cuisine, with many versions available. This lunch or dinner option is generally served as a considerable portion, as many platters tend to be, so it is best eaten when you are pretty hungry, are sharing with someone else, or as a typical Sunday lunch feast. The platter is made up of chicharron, egg, refried beans, pork, beef, chicken, fried plantains, avocado – and a small salad for a balance, of course.
Lechona is essentially roasted pig, which is cooked on top of an open fire, chopped up, and then served from inside the pig's body. This is a favorite Colombian dish and is generally eaten during the festive season and celebrations.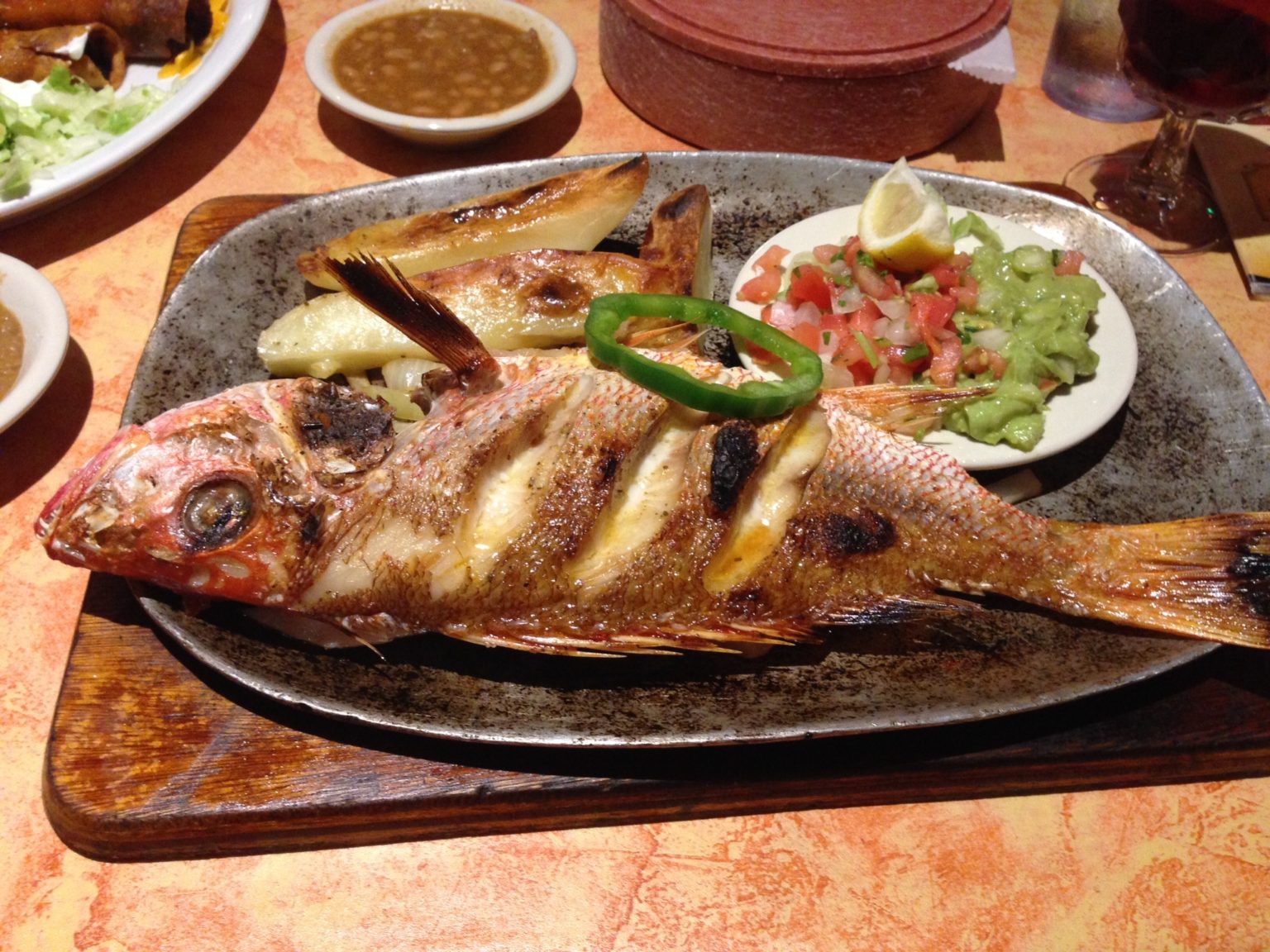 Considering Colombia has access to two coasts, both the Caribbean and Pacific coasts, abundant fresh fish is available. However, you will probably be surprised to find fried fish available everywhere, even in the mountains. The fish you will find inland is trout, which differs from the fish on the coast, but both must be tried when in the regions. Fish is often served with rice and fried plantain.
You could call this the Colombian version of sambuca, and if you are a fan of anise-flavored liquor, you should give this a try. It is commonly drunk straight, and as it is widely available, there will be many chances for you to try this, and don't worry, the locals say it won't give you a hangover.
Rum is widely available in Colombia, like many Caribbean countries, and each region makes its version, so if the anise liquor is not for you, you can rest easy knowing there is a more palatable option.
Columbias coffee production is the third-highest globally. The Coffee Triangle is a famous region for coffee lovers to retreat to taste the good stuff. You can find coffee everywhere in Colombia, but if you want to learn about the process behind Colombian coffee production and do a few taste tests, then make sure to opt for a coffee-focused tour like this.
Nothing beats a fresh juice on a hot day, and if you have tried the exotic fruits available all over the country, you should opt to quench your thirst with an exotic fruit juice, which can be made with a mix of your chosen fruits.