When it comes to visiting Vietnam, there are many activities, sights to see, and history to uncover, but have you thought about Vietnam's art scene? There are quite a few art galleries to visit and museums on all topics, and this is a fantastic way to see another side of this beautiful country.
On the other hand, suppose you want to see some local museums and art exhibitions. In that case, it is always worth getting in contact with a knowledgeable 'Destination Expert,' who can guide you in the right direction to make your trip even for memorable, but for now, here are some great art galleries and museums to visit in Vietnam.
Art is something you might not have thought about when planning a trip to Vietnam, but there are plenty of places to spot some great work, and when it comes to museums, there are many unique places to uncover the incredible history and culture of Vietnam, many of which we will mention below.
Art can come in various forms, and Vietnam has a long history of great literature, music (which varies from region to region, visual art, and even crafts, so it is a great thing to keep on the lookout for.
Here is an overview of art in Vietnam and a few great options for art galleries and museums to visit while you are traveling the country.
Ho Chi Minh City Museum of Fine Arts: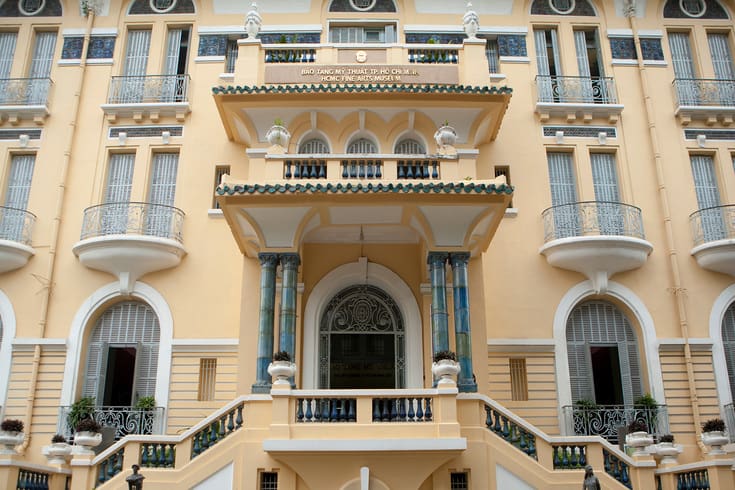 This museum is a must-see if you are an art lover and are looking for a great museum to discover Vietnam's art. This is a significant art museum and the National Art Museum in Hanoi and covers three whole floors, keeping you busy during a day of discovery. Here you will see everything from Vietnam sculptures, silk work, oil paintings, and some very traditional methods of artwork such as woodcut paintings. In addition, expect to see many varieties of ceramics, a collection of Buddhist art, and archeological exhibits.
National Museum of Fine Arts Hanoi:
This is the country's leading museum and is worth visiting in Hanoi city. Here you will be able to discover a range of Vietnamese fine arts from various historical periods, all of which will better understand the heritage and culture of such a fascinating country.
With a mix of artwork from new artists, and more traditional work, this art gallery in Ho Chi Minh is a place that will open your eyes to art in Vietnam, especially when you hear the stories about each painting as you move around the gallery. If art is your thing, visit this gem in Ho Chi Minh city.
Known locally as CTG, this gallery is a great place to spend some time while you are in Ho Chi Minh city, and it offers the visitor a range of ever-changing exhibitions from Vietnam's artists, as well as being a representative of some award-winning sculptors and artists.
As the first private art gallery in Hanoi, this super spot offers you three stories jam-packed full of exceptional artwork from some of the best artists in the country. This will give you a great insight into modern-day art and a look at some work from up-and-coming artists.
Considering Vietnam has one of the most intriguing histories globally, there is a lot to know and learn if you take the time. Many museums offer you different topics to delve into, and history is a major one, which will keep you discovering more and more. Here are a few of the must-visit museums in Vietnam.
History Museum Ho Chi Minh:
This history museum is an excellent source of information revolving around all aspects of history within the country and has a wide variety of exhibits from throughout the ages, including war history and displays of the various dynasties prehistoric artifacts.
National Museum of Vietnamese History, Hanoi: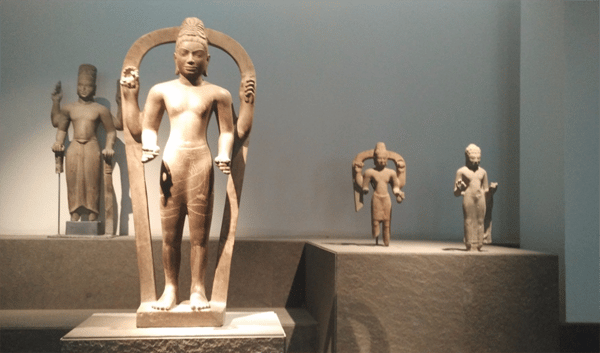 This major history museum covers subjects such as Vietnam's prehistory, revolutions, the war history, as well as providing over 200,000 exhibits, which cover a range of topics. If you want to get to know all aspects of Vietnam's history, heritage, and culture, this is undoubtedly a place that will open your eyes and keep you discovering more about this country.
As the name suggests, this museum focuses on the topic of war, and it has exhibits that delve into the history of the First Indochina War and the Vietnam war, both of which have shaped Vietnam in many ways.
Vietnam Museum of Ethnology:
Vietnam is made up of many ethnic groups, and this museum focuses on the 54 recognized groups in the country. With over 30,000 objects to discover, this is a museum that will undoubtedly give you a great insight into the people who make up the population of Vietnam and their heritage.
It is one thing to visit a history museum and learn about the countries not so simple past, but it is another thing to see it from another perspective, and this is where the Vietnam Women's Museum comes in. Here you will not only learn about the country's past, but you will primarily learn about the importance of women during these times and how they played their part.

With interactive and themed exhibits and displays, you will get a better understanding of how women helped fight for Vietnam in various ways. If you find yourself longing for a deeper understanding of history while in Hanoi, you should visit this museum.
While traveling around, you may notice some outstanding monuments, which represent various topics within the country, and some of these are hard to miss. However, a few are pretty impressive and have some intriguing backstories.
Christ the King
Statue of Golden Buddha
The Vietnams Heroic Mother Statue
Van Thuy Tu Commerical House
Vo Thi Sau Monument
There are many tours to choose from when it comes to exploring more of what Vietnam has to offer in terms of culture. A lot of them will not only give you an insight into the food culture, the historical sights, natural wonders, and tourist attractions, but many will incorporate many cultural aspects which set them apart from the usual tours. So, if you plan to visit Vietnam to learn more about the history, heritage, arts, and culture of the country, these are a few tours to consider: