If you are an art lover, you will be in heaven when visiting Jordan, especially if you are particularly interested in ancient art, considering art in Jordan dates back to the Neolithic period. As well as this, Jordan has a long history, and much of its story is told in the many museums around the country, which makes it a captivating country to discover more of. A trip to Jordan is like taking a trip back in time, giving you a unique impression, and leaving you in awe of everything it stands for.
Your local Destination Expert will be on hand to guide you towards some hidden gems, but until then, let us give you an overview of Jordanian art, the best places to see it, and the top museums to visit in Jordan.
If you go to any museum in Jordan, chances are you will come across ancient artifacts, including ceramics, mosaics, calligraphy, and mosaics, all of which go a very long way back and represent ancient Jordanian art as well as pieces of history. Just like in many other countries, art has changed over the years. In Jordan's case, this became apparent during the development of an independent Jordan, which saw art take on a more contemporary style with influences of tradition.
Whether you are interested in ancient art forms or prefer spending time marveling at contemporary pieces in a gallery or art museum, there are many options. If you are an avid museum-goer in general, you will love these museums we will list further on. But, firstly, let us show you the best places to go in search of art in Jordan.
This major contemporary art museum located in the capital city of Amman will undoubtedly keep you busy, with over 2,000 works of art from 800 artists, mainly from Africa and Asia. Here you will get the chance to marvel at a range of displays of ceramics, paintings, sculptures, prints, weavings, and photographs, in this leading Jordanian art museum.
This was the first private art gallery in Jordan, which opened in 1991 and offered original artworks by regional, national, and international artists. And if that was not enough, they even offer cultural workshops, seminars, exhibitions, and in-house training.
Darat Al Funun, which means 'House of Arts' in Arabic, aims to provide a platform for Arab artists and houses art exhibits in its six renovated ancient buildings, which are a real piece of Jordanian history.

Here you can take your time wandering around the collections and then take some time outdoors to explore the restored archeological site in their garden. The Khalid Shoman Collection, which represents over 140 contemporary and modern artists, includes a range of artworks from oil on canvas and photography to videos and installations.
Having begun in Amman in 1996, this art museum aims to represent both established and emerging artists and has both an expansive permanent collection and an ever-changing temporary collection, so each year that you visit, you will find something new. Some of the artists featured here include Charles Khouri –Lebanon, Hani Dallah – Iraq, and Jamal Abdul Rahim – Bahrain.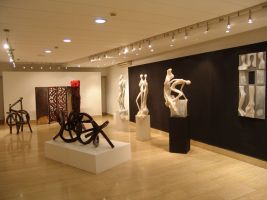 This leading art gallery in Amman was open in 1993. It is a place of creativity and the arts and prides itself on being easy-going and approachable to discovering art. It has various artworks from Arab artists, but it also promotes work from English, New Zealand, and Italian artists. The exhibitions are ever-changing, making for a great place to return to for a fresh viewing opportunity.
Since 2008, this art museum has aimed to promote Jordanian art by exhibiting and promoting art by up-and-coming and well-known artists. Not only are there exhibitions here, but the museum offers art classes in drawing and painting for people of all ages, as well as lectures and book signings.

Amongst the collections, you will find some limited-edition prints, paintings, and sculptures, that regional and local artists have done. In addition, it hosts an annual event they call the 'Trendsetting' series, which represents the art of design in Jordan, and each year small groups of budding artists create pieces to display.
This is the largest museum in Jordan and houses the country's most significant archeological finds, including the Ain Ghazal statues, which are some of the oldest large-scale statues ever been discovered. Although the original museum was a lot smaller than the one now and aimed to keep the most important findings, it was then redeveloped to an international standard and is now 10,000sqm in size, with a variety of collections, all of which are in chronological order.
This super interesting museum offers you a unique experience and is considered the first specialized tank museum in this region to collect, restore, preserve and exhibit military tanks and army vehicles to educate people about their role in Jordan's military history. This family-friendly, interactive museum has 140 tanks to discover, all in chronological order, all aimed at providing children with a wealth of information and attracting the attention of adults looking to learn more.
This cultural heritage museum in Amman is a great place to discover Jordan through the ages, with traditional artifacts, including costumes, musical instruments, mosaics, and handicrafts. This is a great place to learn more about Jordans' past. Many of these cultural artifacts represent the culture of the desert – Bedu, villages – Reef, and towns – Madinah, giving you a broader look at the way different people lived within the same country. In addition, there are various mannequins displayed in multiple settings to provide you with an idea of how life was lived in these areas in historic Jordan.
The Dead Sea is the lowest point on earth, with the shore being 392m(1286ft) below sea level, the lowest level ever recorded in history, and to this day, the water is declining at a rapid rate. This museum hosts exhibitions that give you insight into this unique region and how the lowest point on earth came about, with four sections: Origins, Eco-System, Human Interaction & Dead Sea in Danger. Many people visit the Dead Sea each year, and it is one of the world's great wonders, which this museum lets you uncover. A fascinating part of the world with a fascinating story!