The Argentinian landscape is nothing short of majestic, and what better way to take in the beauty than by hiking one of its many trails? From the towering peaks to the open pampas, making it perfect for outdoor enthusiasts who want to explore. The natural surroundings are simply stunning, and there's plenty of diversity in terms of terrain.
The country's diverse geography and natural beauty make it the perfect backdrop to blend mesmerizing coastlines, idyllic mountains, stunning glaciers, and sweeping deserts. Trails range from gentle strolls to strenuous hikes, so you can easily find a suitable hike based on your fitness and experience. They are also sorted by distance and difficulty level as well. Try these ten best hiking trails in Argentina to enjoy your Argentine experience to the fullest.
Let's talk about each terrain!
TOP 10 ARGENTINE TRAILS FROM GLACIER FIELDS TO FORESTS
Difficulty level: Easy
Duration: 4.7km (2.92 miles), 1 Hour 30 Min
The Perito Moreno Glacier is one of Patagonia's most popular hiking trails in Argentina. The glacier is beautiful, and the hike is relatively short, 47 km, making it perfect for people of all fitness levels.
You will need crampons to traverse the icy terrain. Generally, the hike is easy, with few steep inclines and gentle slopes. Be careful as you navigate the trail because there are a few crevasses and sinkholes.
In only one hour and a half, this hike traverses the top of one of the continent's most famous and beautiful glaciers. The trip will take you along the south shore of Lake Argentino and the Andean foothills. The National Park Los Glaciares is reached after crossing the Brazo Rico river by Centinela and Mitre.
Embark on an incredible tour of El Calafate and Torres del Paine with Baboo Local Expert: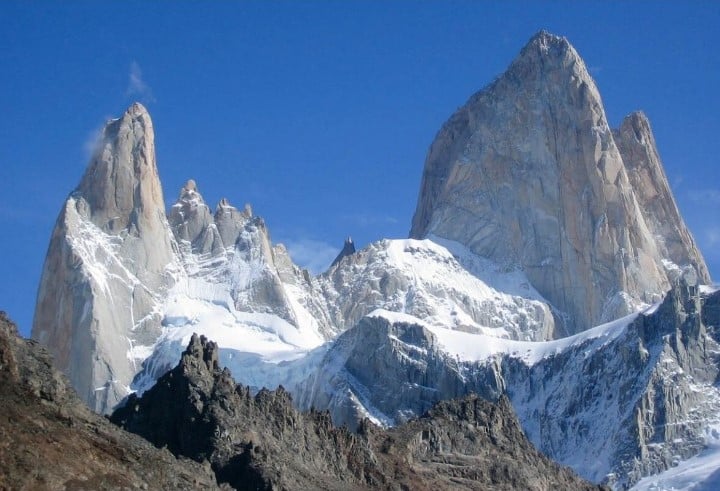 Difficulty level: Easy to moderate
Duration: 21.4 km (13.2 miles), 8 to 10 Hours
Popular hiking and mountaineering destination Mount Fitz Roy attracts many hikers. One of the best hiking trails in Argentina is Mount Fitz Roy. The hike you should choose if you have limited time is this one. El Chaltén is the starting point of the country's leading hiking destination.
The mountain offers stunning views of the nearby landscape, and its summit is a popular destination for climbers. If you're planning on hiking Mount Fitz Roy, be prepared for weather changes and ensure you have the proper equipment for the hike. Enjoy the spectacular scenery along the way, too.
Take a trip to Mount Fitz Roy, an Argentina's most impressive place with Baboo Local Expert:
3. Parque Nacional Nahuel Huapi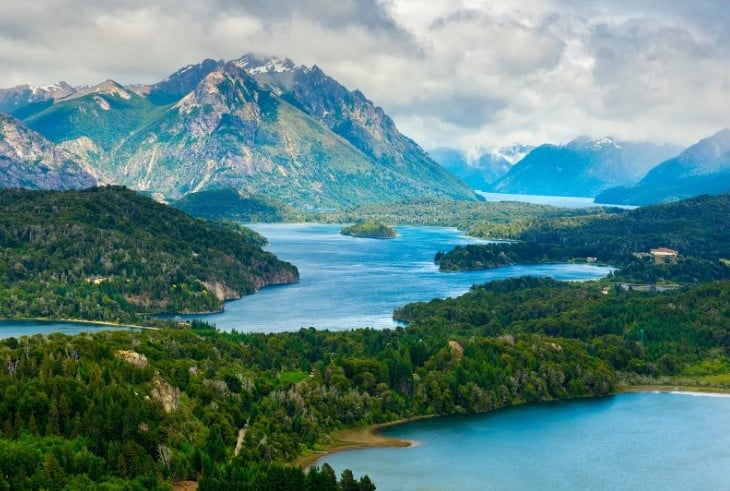 Difficulty level: Moderate
Duration: Varies
With its numerous campsites and trekking lodges known as refuges, Nahuel Huapi National Park is the perfect place for multi-day hiking, as it covers a large region of Argentina's Lake District. The Paso de Las Nubes ("Pass of the Clouds") trail is another popular option, taking hikers through meadows and forests over two days. It takes an average of 7 h 58 min to complete this 28.0-km out-and-back trail. In addition to Pampa Linda and Laguna Frias, Puerto Blest is also included. With stunning views, Parque Nacional Nahuel Huapi is a great place to explore on foot.
One of the most popular trails in Parque Nacional Nahuel Huapi is the hike to Cerro Catedral. It takes an average of 6 h 12 min to complete this 18.7-km out-and-back trail near Bariloche, Rio Negro. This challenging trail takes you through some of the most beautiful scenery in the park, including forests, meadows, and of course, the stunning Cerro Catedral.
Difficulty level: Moderate
Duration: 155km (96 miles), Half to one day
Jujuy, Argentina's arid northern state, is home to some of the country's most colorful attractions. The Quebrada de Humahuaca, in Northwest Argentina, is a geologically rich mountain valley that stretches for some 155km (96 miles). As the name implies, the Hill of the Seven Colors is a spectacular multicolored mountain just a short hike away from the central plaza of Purmamarca. You can also enjoy the Painter's Pallete from Miamara, a nearby town. Furthermore, the region has many other great hiking opportunities besides its stunning high-altitude desert landscapes.
You can find ancient ruins and archaeological sites along hiking paths laid down by the Inca half a millennium ago. Our expertly chosen, skilled, licensed, and insured professionals can help you with these tasks.
Difficulty level: Hard
Duration: 112km (70 miles), 13-15 days
The Cerro Aconcagua hike is a challenging but rewarding trek that takes hikers to the highest peak in the Americas. Despite the ability to finish it early, most hikers choose to take their time and enjoy the incredible views. The hike usually takes 13-15 days to complete. Mountain climbing, backpacking, and hiking are popular activities in this area. High-altitude hikers should not underestimate the problematic challenge of Aconcagua, located 112km (70 miles) northwest of Mendoza in Argentina's mid-west.
It is challenging to reach the 6,962-m (922,841-ft) summit – known as the "roof of the Americas" – because of unpredictable weather, but the satisfaction is immense if you succeed.
How about a pro tip? Take a look at one of our Local Experts' amazing trip to Aconcagua:
Difficulty level: Moderate
Duration: 22km (13.6 miles), 1 day
Laguna de Los Tres hike ranks among the region's most popular and memorable trails. El Chaltén, the 'trekking capital of Argentina,' is rightfully known as the starting point for many of Patagonia's best hikes. It begins in El Chaltén – Argentina's trekking and climbing capital – and winds through waterfalls, lakes, meadows, forests and beech trees. When you reach the eponymous lagoon, you'll see Cerro Fitz Roy, which lies at the base of the trail if you don't have time or inclination but still want stunning views.
You can return to El Chaltén or camp overnight in Laguna Torre via Lagunas Madre y Hija. The northern sector of Parque Nacional, Los Glaciares in southwest Patagonia, offers a range of clearly marked, interconnected trails.
Last but not least, with a stunning view of the lake and glacier, Baboo local expert offers an in-depth look to make your journey easier and enjoyable:
7. Cerro Guanaco, Parque Nacional Tierra del Fuego
Difficulty level: Moderately challenging
Duration: 9 km (5.5 miles), 1 day
Argentine's southernmost point is home to pebble beaches, slimy bogs, thick forests, pristine tundra, and sparkling lakes. Aside from offering a beguiling landscape of forests, bogs, and vast tundra, Parque Nacional Tierra del Fuego also offers a great place to see birds. A 3-kilometer trail goes to the Chilean border, while an 8-kilometer path takes you along Senda Costera and offers beautiful water views.
Among the most popular hikes is Cerro Guanaco, a 9-km climb that offers panoramic views of Lago Roca and the Andes. Although it's challenging, the summit is worth the climb. There are many types of birds in the park, including Magellanic woodpeckers, austral parakeets, and green-backed firecrown hummingbirds.
Check out these amazing Argentina-based Andean adventures recommended by our Local Experts:
Difficulty Level: Easy
Duration: Both take 1.9km (1.1 miles), 1-3 hours
In South America, Iguazú Falls is one of the prettiest things to see. If you are not familiar with the hiking options available in the area, you may not be aware that there are several.
There are two popular routes on the Argentinian side: Paseo Superior and Paseo Inferior, which offer incredible views from both directions. The two hikes take between 1-2 hours and have wide boardwalks and lots of signage, making them very easy to complete. Paseo superior, which cuts through the lush, subtropical forest and offers excellent views over waterfalls, is wheelchair accessible, offering a fantastic view of the Garganta del Diablo. Eight viewpoints on Paseo Inferior offer different views of the falls.
Check out the Iguazu Falls tours offered by Baboo Local Experts based in Argentina:
9. Cascadas Del Río Colorado
Difficulty level: Hard
Duration: 11km ( 6.8 miles), 4 to 5 hours
Typically takes 4 to 5 hours to complete, this 11km trail near Cafayate, Salta, is considered an arduous trek. This rugged terrain is home to almost a dozen waterfalls, including the eponymous Cascada Del Rio Colorado.
This hiking spot offers something different from other hikes in Argentina, thanks to the red rocks and desert-like landscape. Despite its appearance, this hike is quite challenging. You'll need a hat and water because it's very exposed.
Difficulty level: Hard
Duration: 6km (3.7 miles) 2 hours 45 min
Located near Ushuaia, Tierra Del Fuego, this trail is 6.0 kilometers long. On average, completing this challenging route takes 2 h 45 min. In addition to being an excellent hiking trail, this trail is also an excellent skiing trail.
It leads to Ushuaia's largest drinking water source, the Martial Glacier, from the center of town. Make sure your shoes are warm and waterproof in the other three seasons since it can be snowy in the summer. The Beagle Channel will be visible from the top of the hill.
Experience some of the most memorable excursions in Ushuaia with our Argentina Local Experts:
Argentina boasts some of the most stunning landscapes in the world, making it an ideal destination for hikers and nature enthusiasts. There are various hiking trails in Argentina, ranging from easy day hikes to multi-day treks through remote and rugged terrain.
While well-marked, sometimes you can get lost, so while it is possible to hike self-guided, some folks may prefer to hike with a guide. Getting a guide in advance may be better than relying on touts at the entrance. To help travelers navigate different terrains, we connect them with local experts within the destination.
Baboo gives you a fantastic adventure based on your needs; get a free quote today!
Plan your next dream trip with one of our hand-picked, highly experienced, licensed, and insured Argentina Local In-destination Experts!