Hello, my fellow culinary enthusiasts! Join me on a mouthwatering 10-day adventure through the stunning landscapes and delectable cuisine of Switzerland.
In June, I had the privilege of embarking on a grand tour of this beautiful country, and it ignited my passion for cooking like never before. My trip to Switzerland, with its picturesque villages, breathtaking mountains, and scrumptious dishes, left me utterly smitten.
Day 1-2: Zurich - A Sweet Start to the Journey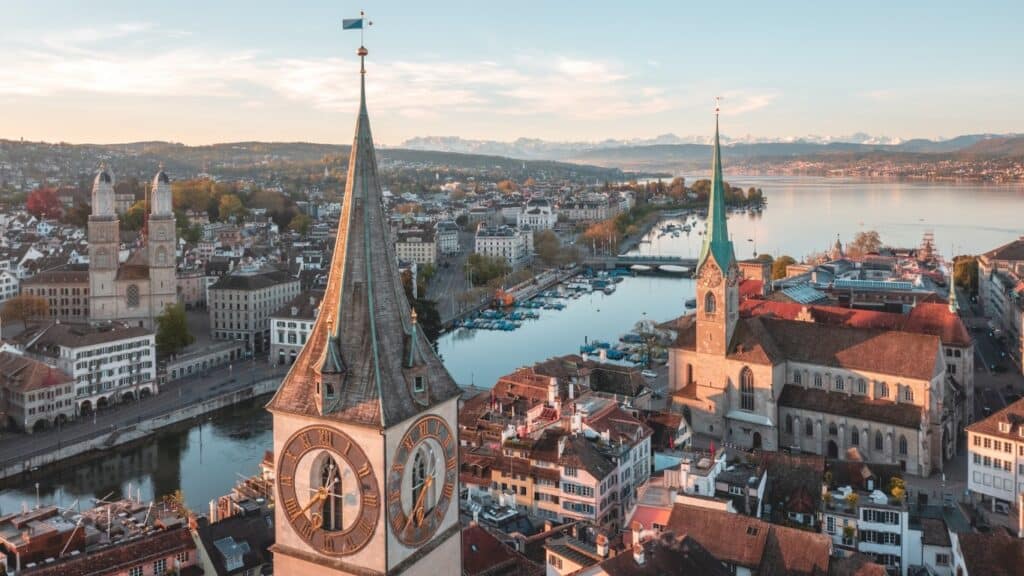 My Swiss culinary odyssey commenced in Zurich, where the city's delightful bakeries filled the air with the irresistible aroma of freshly baked pastries. It was love at first scent, and so, I began my adventure with a flaky croissant and a cup of Swiss hot chocolate so velvety it felt like a warm embrace.
For lunch, I visited a traditional Swiss restaurant and tasted fondue for the very first time. The way that molten cheese clung to my fork, teasingly dripping onto a piece of bread, was pure magic. The Swiss certainly know how to make cheese lovers swoon.
Day 2 was dedicated to exploring Zurich's vibrant markets. The delightful medley of fresh fruits, artisan cheeses, and handcrafted chocolates left me giddy with excitement. I couldn't resist stocking up on Swiss chocolate to ensure I was well-prepared for the journey ahead.
Day 3-4: Lucerne - A Fairytale on a Plate
Lucerne was the next stop on my culinary adventure, and I must admit it felt like stepping right into a fairy tale. The charming old town, the iconic Chapel Bridge, and the serene Lake Lucerne formed a picturesque backdrop to my gastronomic escapade.
On Day 3, I treated myself to a plate of rösti, Switzerland's answer to hash browns. These crispy, golden wonders, tender on the inside and served with a generous helping of local sausage, were the epitome of comfort food. I couldn't help but think, "Why not try recreating this delicious dish back home?"
Day 4 led me to a local chocolatier. Here, I had a fascinating glimpse into the history of Swiss chocolate-making, and I couldn't resist getting my hands a bit messy. I had the opportunity to dip pieces of Swiss chocolate into a variety of mouthwatering toppings. Not only was it a blast, but I also knew this new skill would be a delightful addition to my next dinner party.
Day 5-6: Interlaken - The Chocolate Box of Switzerland
Interlaken, nestled between the glistening waters of Lake Thun and Lake Brienz, was a true feast for the eyes. The dramatic Alpine scenery was a picture-perfect backdrop for my culinary adventures.
Day 5 was all about embracing my inner adventurer as I ventured into the Swiss Alps for a hike. The crisp mountain air did wonders for my appetite, and by evening, I found myself savoring a traditional Swiss raclette. Melted cheese scraped onto a plate, served with potatoes, pickles, and onions—pure, melted bliss.
Day 6 was entirely devoted to exploring the chocolate wonders of Interlaken. I visited a Swiss chocolate museum that revealed the secrets of chocolate production from cocoa bean to heavenly truffle. This experience was more than just a culinary adventure; it was a full-fledged love affair with chocolate.
Day 7-8: Zermatt - Where Cheese and Majestic Peaks Meet
My next destination was Zermatt, and the moment I laid eyes on the majestic Matterhorn, I knew I was in for something extraordinary. In this charming mountain village, I had the chance to savor the most divine cheese fondue. Crusty bread, gooey cheese, and the awe-inspiring silhouette of the Matterhorn—it was pure magic on a plate.
Day 8 presented me with the exciting opportunity to try my hand at making cheese fondue myself. With some guidance from a friendly local, I learned the art of blending different cheeses, wine, and spices to create the perfect fondue. The best part was sharing this delectable creation with the new friends I had made along the way.
Conclusion: A Culinary Journey to Remember
As I look back on my 10-day grand tour of Switzerland in June, I am filled with gratitude for the unforgettable experiences I had. Switzerland, with its rich history of cheese, chocolate, and hearty mountain cuisine, has ignited a fire in my kitchen. I returned home with a suitcase bursting with Swiss chocolates and a heart brimming with the most delectable memories.
This culinary adventure was about more than just food; it was a reminder of how travel can open up new worlds, flavors, and friendships. It was a reminder that every dish tells a story, and every bite is a journey.
So, dear readers, let this grand tour of Switzerland inspire you, just as it inspired me. Whether it's mastering the art of fondue or experimenting with Swiss chocolate in your own kitchen, let the flavors of Switzerland take you on a journey of your own.
Bon appétit and happy travels, my fellow foodies! May your culinary adventures be as sweet and savory as mine in Switzerland. And remember, the world is a smorgasbord waiting to be explored, one delicious bite at a time.
Check out Baboo Travel's free custom trip itinerary featuring the iconic highlights of Switzerland:
Plan your next dream trip with one of our hand-picked, highly experienced, licensed, and insured Local In-destination Experts!