Italy is a country that offers an enchanting experience to travelers year-round, but May is an especially delightful time to visit. With pleasant weather, vibrant events, and a distinct atmosphere, May in Italy provides the perfect backdrop for a memorable vacation.
In this blog post, we'll take a closer look at what you can expect during a trip to Italy in May, from the weather to cultural events and everything in between.
May in Italy ushers in the beauty of spring with mild temperatures and a delightful mix of sunshine and rain. The average temperature ranges from 15°C to 25°C (59°F to 77°F), making it an excellent time for exploring cities and the countryside without sweltering heat. However, it's essential to pack layers and an umbrella, as sporadic showers are not uncommon. The Mediterranean climate ensures that Italy in May is a visual treat, with blooming flowers and lush green landscapes.
May is a shoulder season for tourism in Italy, which means you can enjoy popular destinations without the overwhelming crowds that summer often brings. It's easier to secure accommodation and dine at renowned restaurants without extensive reservations. Plus, the atmosphere is more relaxed, making it an ideal time to immerse yourself in the local culture.
Italy is known for its rich cultural heritage, and May offers various events and festivals to showcase this heritage. Here are a few noteworthy events to look out for:
Festa dei Lavoratori (Labor Day)
May 1st is a public holiday, and you can witness parades and celebrations across the country.
In various towns like Noto and Spello, intricate flower petal carpets adorn the streets to celebrate Corpus Christi.
This renowned art and architecture exhibition usually begins in May and runs through the fall, featuring works from all over the world.
May in Italy brings a cornucopia of fresh produce to local markets and restaurants. You can savor seasonal delicacies like artichokes, asparagus, and strawberries. This is also the time to try a classic Italian dish, "risotto primavera," which features a medley of spring vegetables. And of course, don't forget to indulge in some exquisite gelato as the temperatures rise.
Ideal for Outdoor Activities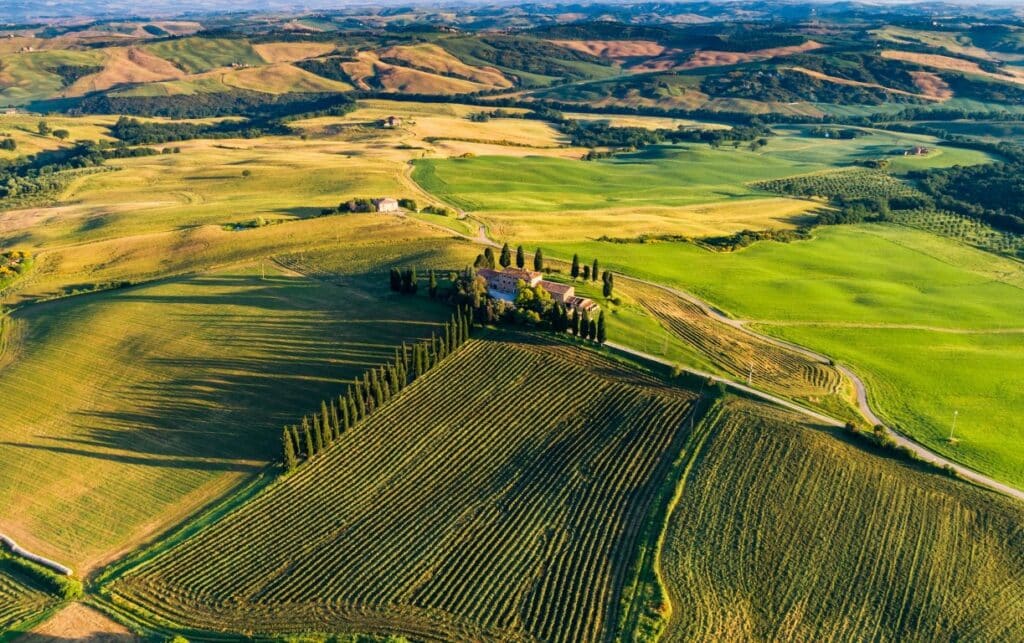 The pleasant weather in May makes it an excellent time for outdoor activities. Whether it's hiking in the picturesque Cinque Terre, cycling through the Tuscan countryside, or simply enjoying a leisurely stroll through historic cities, the mild climate makes it an inviting prospect.
Historical and Architectural Wonders
Italy boasts a plethora of historical sites and architectural wonders. In May, you can explore these treasures without the stifling heat of summer. From the Colosseum in Rome to the art-filled streets of Florence, there's no shortage of awe-inspiring sites to visit.
If you're looking for some beach time, Italy's stunning coastline offers beautiful seaside escapes in May. The Amalfi Coast, the Italian Riviera, Puglia, and Sardinia are excellent choices for basking in the sun, swimming, and enjoying the crystal-clear waters.
Conclusion: Embrace October Italy in may
Italy in May is a magical time for a vacation. The pleasant weather, cultural events, culinary delights, and the absence of overwhelming crowds make it a prime choice for travelers. Whether you're exploring historic cities, attending local festivals, or simply indulging in the pleasures of Italian cuisine, May is the month when Italy truly comes alive. So, pack your bags and get ready for an unforgettable Italian adventure in the heart of spring!
Check out Baboo Travel's free itinerary for your custom trip to Italy below:
Plan your next dream trip with one of our hand-picked, highly experienced, licensed, and insured Local In-destination Experts!