It was a crisp October morning when my friends and I embarked on a custom trip to Japan, meticulously arranged by the folks at Baboo Travel. With a sense of adventure in our hearts, we couldn't wait to explore the Land of the Rising Sun.
Japan had been on our travel bucket list for quite some time, and the promise of fewer crowds and the enchanting autumnal atmosphere made October the perfect time to go. We were about to discover that this trip would not only be an incredible adventure to Japan's most romantic places, but also a profound journey of personal realizations and enrichment.
Our journey began at Tokyo Airport, where we were warmly greeted by the local travel expert from Baboo. It was our first taste of Japanese hospitality, and we were immediately impressed by the warmth and efficiency of our welcome. We quickly forgot how much we spent for this trip to Japan. The shared shuttle ride to our accommodation allowed us to catch our first glimpses of Tokyo's bustling streets and iconic neon signs. Upon reaching our accommodation and checking in, the anticipation of the days ahead set in.
As we explored Tokyo, we found ourselves drawn to its unique blend of modernity and tradition. The city's skyline is punctuated with towering skyscrapers, yet amidst the urban jungle, you'll discover serene Shinto shrines and tranquil parks. We marveled at the contrast between the bustling streets of Shibuya and the serene beauty of Meiji Shrine. And as evening fell, the city's neon lights illuminated our path, creating a surreal yet inviting ambiance that was truly unforgettable.
Day 2: Tokyo - Hakone, JAPAN
After a restful night in Tokyo, we embarked on a train journey to Hakone, the gateway to Mt. Fuji and its surrounding national park. The autumn foliage had begun to paint the landscape with shades of red and gold, and the cool breeze only added to the charm of the season. We had a Hakone Transport Travel Pass that granted us the freedom to explore the area as we pleased.
One of the highlights was the Volcanic Owakudani Ropeway, which offered us stunning views of hot springs and sulphurous fumaroles. We glided across Ashinoko Lake on a pirate ship and marveled at the breathtaking scenery. While the elusive Mt. Fuji remained hidden behind the clouds, the overall experience left us in awe of nature's wonders. Our day ended at a natural onsen resort in Hakone, where we soaked in soothing hot springs and savored the tranquil evening.
The hot springs, or onsen, have been a cherished part of Japanese culture for centuries, and our stay in Hakone allowed us to immerse ourselves in this tradition. The relaxing dip in the mineral-rich waters was the perfect way to unwind after a day of exploration.
Day 3: Hakone - Kyoto, Japan
As we left Hakone behind and boarded the bullet train to Kyoto, we couldn't help but admire the beauty of Japan's efficient transportation system. Kyoto, with its 2,000 shrines and temples, was a cultural treasure trove waiting to be explored. We couldn't wait to immerse ourselves in its rich history.
Our journey in Kyoto began with visits to iconic sites like Kinkaku-ji, the golden pavilion, and Fushimi Inari shrine, famous for its vermillion torii gates. With the help of our local travel expert, we hopped on designated buses and subway lines, making our way around the city with ease. The autumn foliage in Kyoto was nothing short of spectacular, casting a magical spell on us.
We also savored Kyoto's famed kaiseki cuisine, a traditional multi-course meal that's as much an art form as it is a culinary experience. Each dish was a testament to precision and aesthetics, celebrating the seasonal ingredients that defined our journey.
An early morning adventure took us to Nara, an ancient capital brimming with historical significance. Isui Garden, nestled beside the Yoshikigawa River, offered a serene escape. Our local travel expert used a travel agency software to help us book passes to the awe-inspiring Todai-ji Temple, home to the world's largest wooden building and a colossal bronze Buddha statue. The sight of deer grazing in Nara Park added a touch of whimsy to the day.
Kasuga Taisha Shinto shrine, known for its stone and bronze lanterns, was a mystical place where devotion met artistry. The lanterns, lit only twice a year during special festivals, cast ethereal glows around the shrine. Wandering through Naramachi, Nara's old district, allowed us to delve into local culture, pick up unique souvenirs, and indulge in delicious snacks.
The day's journey was a fusion of history, culture, and natural beauty, all easily accessible with our JR pass. It was a reminder of Japan's remarkable ability to seamlessly blend tradition with modernity.
Day 5: Kyoto - Tokyo, Japan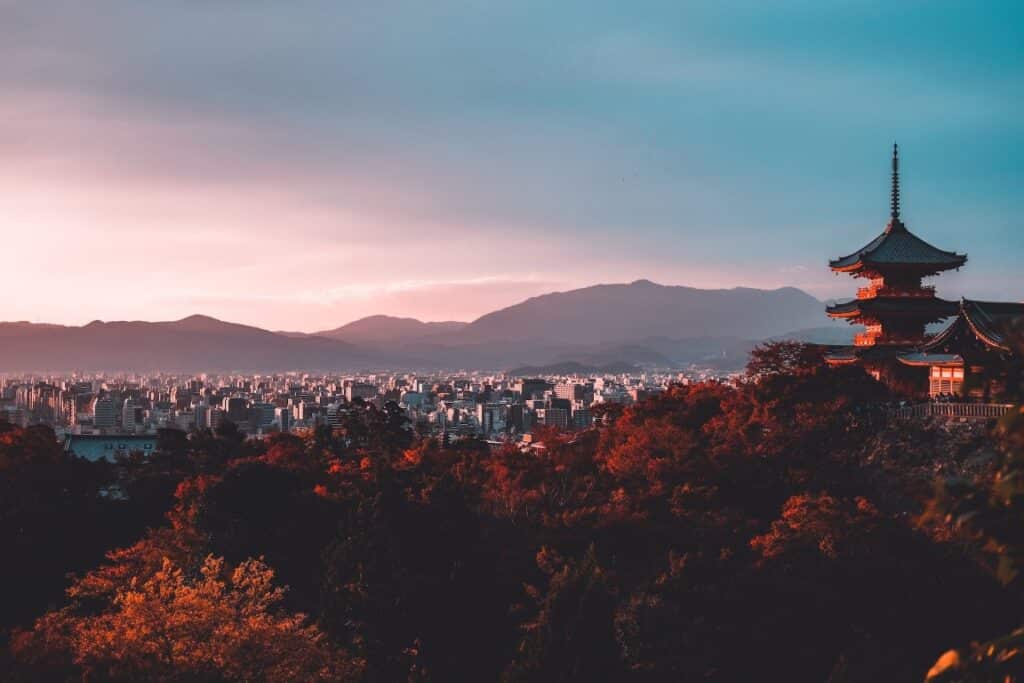 As our final day in Japan dawned, we couldn't help but feel a pang of sadness. It was time to bid farewell to the enchanting country that had captivated our hearts. Our morning was a mix of nostalgia and gratitude, savoring our last moments in Kyoto.
The scheduled bullet train whisked us back to Tokyo, where our adventure came to a close. While we were sad to leave, our hearts were filled with the memories of this incredible journey. Japan in October had gifted us with a deeper appreciation for its culture, history, and natural beauty.
Our custom trip to Japanese destinations in October was not just a vacation; it was an enriching experience that left a lasting impact on our lives. The fewer crowds and the magical autumn ambiance made our journey even more special. We discovered that Japan is a land of contrasts, where ancient traditions coexist harmoniously with modern innovations.
The trip was a beautiful reminder of the power of travel to broaden our horizons, connect us with new cultures, and enrich our lives. As we sat on the plane heading back home, we couldn't help but smile. Our hearts were brimming with gratitude for the wonderful moments we had shared, the personal realizations we had experienced, and the beauty of Japan that had enriched our lives. We left Japan with cherished memories and a promise to return one day, for this captivating country had truly stolen our hearts. Sayonara, Japan, until we meet again!
Check out Baboo Travel's free custom trip itinerary featuring the Iconic highlights of Japan:
Plan your next dream trip with one of our hand-picked, highly experienced, licensed, and insured Local In-destination Experts!