Picture this: Northern Chile's Coquimbo region, where nature's beauty intertwines seamlessly with vibrant culture. It's a place where traditions thrive alongside innovation, all beneath the gaze of the world's clearest skies.
Now, allow me to take you on a personal journey – a Fam (familiarization) Trip I participated on behalf of Baboo Travel, as part of the Coquimbo Adventure travel show organized by TouristEd. This is a tale of how experts, friendly communities, and fellow travelers converged to explore how adventure tourism can sustain traditions and nurture sustainability.
Our expedition led us through the captivating Valle del Elqui, a region both naturally enchanting and culturally significant. Here, local communities opened their hearts to travelers like me, allowing us to witness firsthand how they preserve their heritage while embracing the potential of tourism.
So, let's embark on this extraordinary voyage together – a heartfelt narrative of my Fam Trip with Coquimbo Adventure and Valle del Elqui, where the alliance of culture and sustainability creates not just a journey but a deeply personal and heartwarming adventure.
Day 1: A Warm Welcome to La Serena
As I stepped off the plane at La Serena airport, a sense of anticipation filled the air. After all, this marked the beginning of a remarkable journey in the Coquimbo region. Upon arrival, I had the pleasure of meeting Marcelo, our tour leader, who exuded warmth and enthusiasm. But there was more to come.
As we gathered at the airport, I was introduced to five individuals from other travel companies, all sharing a deep commitment to sustainability. It was a unique blend of like-minded souls, ready to embark on this adventure together.
With our small but passionate group assembled, our journey to La Casona Distante, a haven nestled in the heart of Alcohuáz, began. This was the start of an incredible expedition into the heart of Coquimbo Adventure, where the spirit of sustainability would shape our experiences in the days ahead.
To kickstart our journey, the late afternoon began with a soothing sunset yoga session. The gentle stretches and deep breaths not only prepared our bodies for the adventures ahead but also attuned our spirits to the natural beauty surrounding us.
In the evening, we were treated to a culinary feast showcasing the flavors of the region. It was a delightful introduction to the rich gastronomy that awaited us. With a satisfied stomach and a sense of anticipation, I retired to my comfortable room, eager to embrace the experiences that awaited me in the days to come.
Day 2: Horseback Riding and Winery Marvels
Day two was a true immersion in the heart of the Cordillera de los Andes. We embarked on a remarkable six-hour horseback ride, led by local guides, as we ventured towards the "majada", a small herders' settlement used as a temporary basis while tending livestock.
Along the way, we had the privilege of visiting Viñedos de Alcohuaz, a winery that practices natural winemaking techniques. Here, I learned about the region's mineral-rich soil and how it contributes to the production of exceptional wines. It was a lesson in the intimate connection between the land and the flavors it produces.
Our journey continued with a visit to the charming "Majada de Don Rosendo" and Señora Rosa, who are part of the Santuario Estero Derecho agricultural community. This encounter offered a glimpse into the lives of transhumant herders who journey into the Cordillera de los Andes in search of sustenance for their animals. Conversations flowed, stories were shared, and we indulged in the region's typical mountain cuisine, creating memories that would last a lifetime.
Day 3: Biking, Museums, and Stargazing
Day three promised to be an adventure of a different kind. We saddled up for a thrilling descent on bicycles from Pisco Elqui to Vicuña, covering a distance of about 39 kilometers. Along this picturesque route, we explored the region's iconic landmarks, we visited the Gabriela Mistral Museum, paying homage to the renowned poet and Nobel laureate, discovered Cavas del Valle, a family-run B-Corp winery dedicated to sustainable winemaking practices, and took a juice at a stunning viewpoint. The journey was not just about the physical ride; it was about immersing ourselves in the essence of Valle del Elqui.
As the bike ride came to an end, we enjoyed a serene riverside picnic, connecting with nature and each other. For me, the day ended with a relaxing massage at Casa Bagua, while others in the group opted to explore a local pisco and beer factory.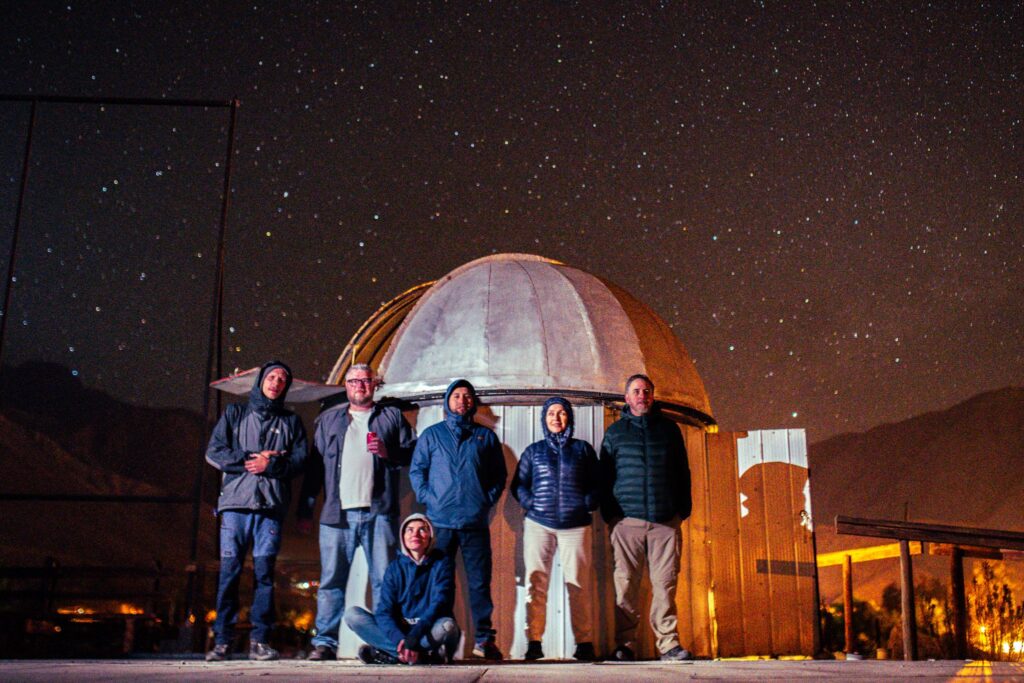 In the evening, we gathered under the pristine skies of Valle del Elqui for a mesmerizing stargazing experience. With a state-of-the-art telescope, we marveled at life in between the stars, and had the privilege to admire the rings of Saturn and the vibrant colors of Jupiter, forging a connection with the cosmos that left us awestruck.

Day 4: Immersing in Chango Culture and Nighttime Revelry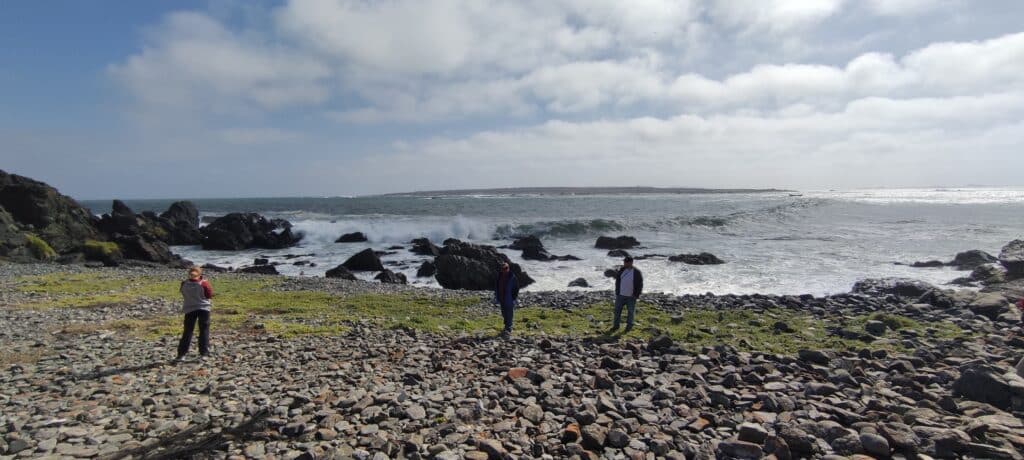 Day four took an unexpected turn, as the sea conditions created a "mareada," preventing us from embarking on a planned boat ride. However, this change in plans led us to an equally enlightening and profound experience with the Chango people.
Our time with the Chango community allowed us to learn about their rich culture and their ongoing efforts to preserve their heritage in the face of modern challenges. It was a humbling encounter that highlighted the resilience and determination of these remarkable people.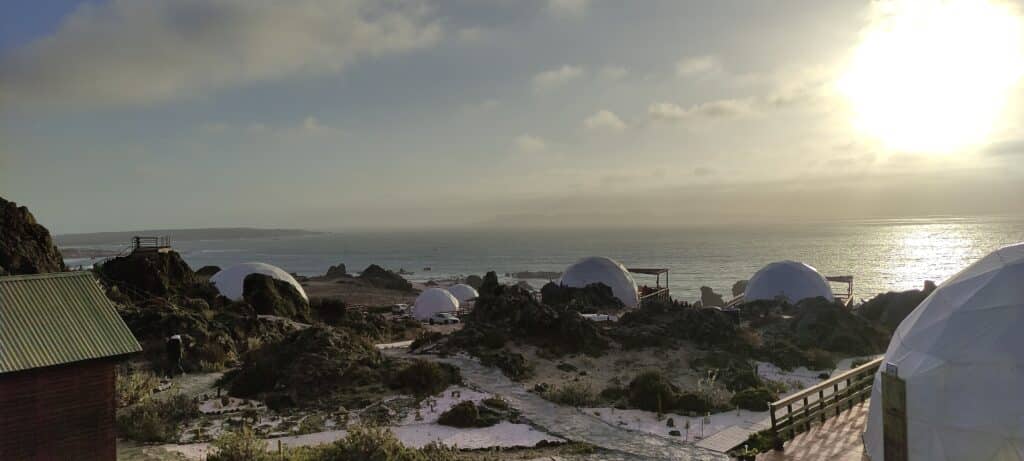 As the day transitioned into evening, we found ourselves at Kunza Domos, our cozy dome accommodation. Here, the night took an exciting turn, as we were treated to a mesmerizing fire show performed by a local artist. The flames danced in the darkness, and the atmosphere crackled with energy.
The night continued with an impromptu party, as our group and the guides came together for a joyful celebration under the starry skies. Laughter, music, and camaraderie filled the air, making it a night to remember at Kunza Domos.
Day 5: Olive Oil & La Serena
On the fifth and final day of our adventure, we began with a delightful breakfast at the picturesque pear of Punta Choros. We then visited a family-run organic olive oil business, Olivas de Olviares, where two passionate individuals shared their journey of producing olive oil and olive oil-based skin products. Their commitment to making a positive impact on the world through their craft was truly inspiring.
Returning to La Serena, we were welcomed with open arms at the hotel restaurant. It was a moment of reflection and anticipation as we prepared for three days of networking and sharing the stories of our unforgettable journey.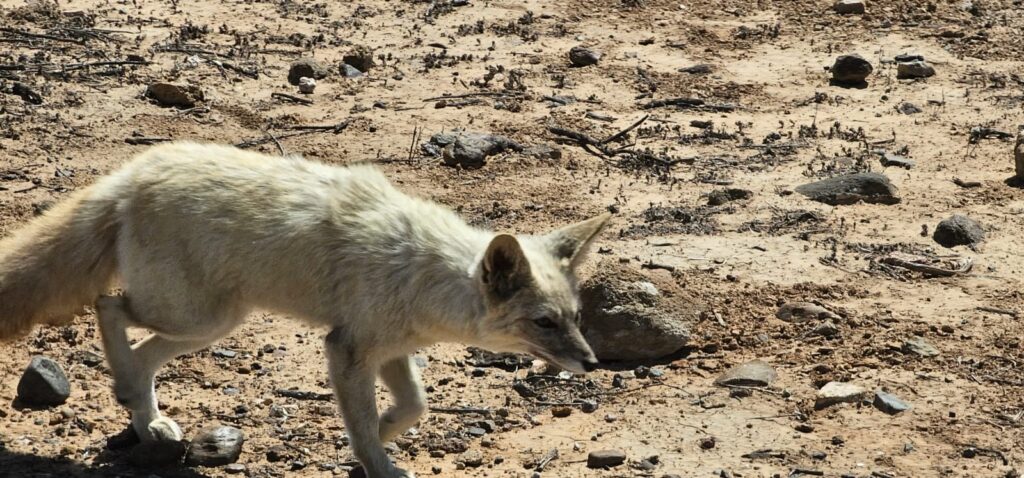 My journey with Coquimbo Adventure and Valle del Elqui was a tapestry of unforgettable moments, each day revealing a different facet of this remarkable region. From the rugged beauty of the Cordillera de los Andes to the warmth of the local communities, from the poetry of Gabriela Mistral to the wonders of the night sky, every experience left an indelible mark on my heart.
This adventure reaffirmed my belief in the power of responsible tourism to create meaningful connections, preserve traditions, and foster sustainability. It was a testament to the remarkable people who dedicate themselves to preserving the essence of their land and culture.
But it didn't stop there. Coquimbo Adventure also opened the door to forging lasting partnerships with local operators, enabling us to offer our clients truly exceptional experiences rooted in sustainability and cultural immersion. The bonds formed with the other invited operators in my group have transformed us into a global family, united by a shared passion for responsible travel.
As I returned home, I carried with me not just memories but a renewed sense of the potential of travel to be a force for positive change in the world, hand in hand with newfound friends who share in this beautiful journey.
Plan your next dream trip with one of our hand-picked, highly experienced, licensed, and insured Local In-destination Experts!