In the heart of South America lies a country brimming with natural beauty, rich history, and vibrant culture – Colombia. Two of its most alluring gems, Cartagena and Medellin, stand out as must-visit destinations for any avid traveler.
From the sun-soaked beaches of the Caribbean coast to the lush green mountains of the Andes, these cities offer a captivating journey that combines old-world charm with modern sophistication. Join us as we embark on an unforgettable exploration of Cartagena to Medellin, uncovering the best attractions in these two Colombian wonders.
Getting from Cartagena to Medellin is an exciting journey that takes you through some of Colombia's most scenic landscapes. While there are several transportation options available, one of the most popular and convenient choices is to take a domestic flight.
Cartagena to Medellin: Taking a Domestic Flight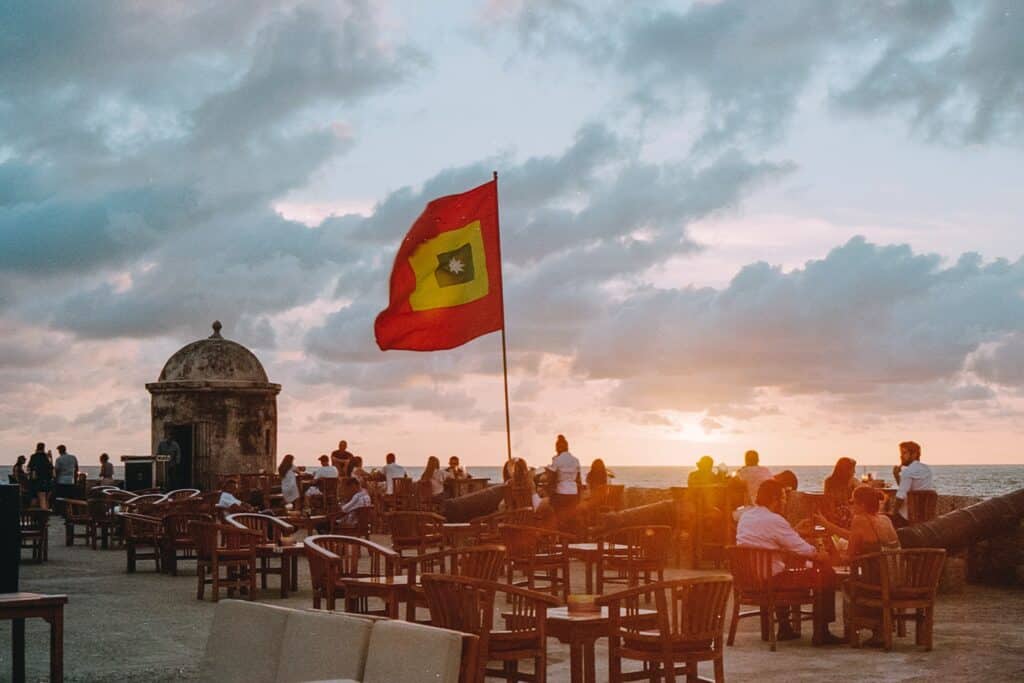 The fastest and most efficient way to travel from Cartagena to Medellin is by booking a domestic flight. Both cities have well-connected airports that offer frequent flights throughout the day. The flight duration is approximately 1 hour, providing travelers with a quick and comfortable transit between these two Colombian wonders.
Advantages of Taking a Domestic Flight from Cartagena to Medellin
Here are the advantages of taking a domestic flight from Cartagena to Medellin:
a. Time-Saving: Flying allows you to cover the long distance between Cartagena and Medellin in a fraction of the time it would take via other modes of transportation. This is particularly beneficial if you have limited time for your trip or want to maximize your time exploring the destinations.
b. Comfort: Domestic flights in Colombia offer a comfortable travel experience with modern aircraft and amenities on board. You can relax, enjoy the in-flight service, and arrive at your destination feeling refreshed.
c. Direct Connectivity: Several airlines operate direct flights between Cartagena and Medellin, offering a hassle-free journey without any layovers or transfers. You can choose from various flight options to suit your schedule.
d. Scenic Views: Depending on your seat, you might be treated to breathtaking aerial views of Colombia's diverse landscapes, including the Caribbean coastline and the lush green mountains of the Andes.
e. Cost-Effective: While the cost of domestic flights can vary depending on the airline and time of booking, they often offer competitive prices, especially when considering the time and convenience they save.
Booking a Domestic Flight in Cartagena
To book a domestic flight from Cartagena to Medellin, travelers can check the websites of various airlines that serve these routes. Avianca, LATAM, Viva Air, and EasyFly are some of the major airlines that offer flights between the two cities. It's advisable to book your tickets in advance to secure better deals and availability.
Flights can go as low as $60 per head in 2023, and flights are available the whole day.
The Best Transportation for Exploring Cartagena
Transportation plays a crucial role in making any travel experience seamless and enjoyable. Fortunately, both Cartagena and Medellin offer excellent transportation options that cater to the needs of travelers. Whether you prefer to explore the cities independently or join guided tours, here are the best transportation options for getting around Cartagena:
a. Walking: Cartagena's historic center is a pedestrian-friendly area with narrow streets and charming alleys, making it ideal for leisurely strolls. Walking allows visitors to immerse themselves in the city's ambiance, uncover hidden gems, and experience its vibrant culture up close.
b. Bicycles: For a more eco-friendly way to explore the city, renting a bicycle is an excellent option. Many rental shops in Cartagena offer bicycles for both short and long-term use, allowing travelers to cover more ground while enjoying the coastal breeze.
c. Horse-Drawn Carriages: To add a touch of romance and nostalgia to your exploration of Cartagena's historic sites, consider taking a horse-drawn carriage ride. It provides a unique and charming perspective of the city's colonial architecture, especially during the enchanting evenings.
d. Taxis: Taxis are readily available throughout Cartagena, and they offer a convenient and reasonably priced option for getting around the city, especially for destinations outside the historic center. It is advisable to negotiate the fare before starting the journey.
The Best Transportation for Exploring Medellin
And here are the best transportation options for getting around Medellin:
a. Metro System: Medellin's efficient metro system is not just a means of transportation but an attraction in itself. It consists of trains and cable cars that connect various parts of the city. The Metro Cable, in particular, provides breathtaking views of Medellin's landscape as it ascends the mountainside. It is an excellent way to access attractions like Parque Arvi and Comuna 13.
b. Metroplus and Metrocable: Apart from the traditional metro, Medellin also offers Metroplus buses and additional Metrocable lines. These modes of transportation extend the reach of the metro system, making it easier to explore different neighborhoods and areas with ease.
c. Local Buses: Medellin has an extensive network of local buses that offer an economical way to navigate the city. While they might be a bit crowded at times, they are a great option for reaching destinations that are not directly connected by the metro.
d. Taxis and Ride-Sharing: Taxis and ride-sharing services are available throughout Medellin and are a convenient option, especially for late-night travels or when you prefer door-to-door service. As always, it's a good idea to use reputable services or ask for recommendations from your accommodation.
When traveling from Cartagena to Medellin, taking a domestic flight is the ideal choice for a swift and seamless journey. With the convenience, comfort, and time-saving benefits it offers, you can quickly transition from exploring the vibrant streets of Cartagena to embracing the captivating allure of Medellin's mountains and culture. So, sit back, relax, and let the skies carry you from one Colombian wonder to another.
With their efficient and diverse transportation options, getting around Cartagena and Medellin is a breeze for travelers of all kinds. Whether you prefer to walk through the historic streets of Cartagena or hop on the Metrocable in Medellin for a bird's-eye view, these cities offer a variety of transportation experiences that complement their respective charms. Embrace the local modes of transport to truly immerse yourself in the vibrant atmosphere of these Colombian wonders, making your journey even more memorable.
Contact our family travel expert for international travel to start your custom trip to Cartagena and Medellin today.
Plan your next dream trip with one of our hand-picked, highly experienced, licensed, and insured Local In-destination Experts!