Love, they say, is the most beautiful adventure two souls can embark upon. My newlywed wife and I had the privilege of starting our journey as a married couple in the enchanting land of Greece. It was a six-day odyssey filled with breathtaking sights, delicious cuisine, and unforgettable memories
Our Greek honeymoon was made extra special, thanks to the Eros Santorini Honeymoon Package, which included a visit to Athens, the cradle of modern civilization, and the captivating island of Santorini, a paradise for lovers. Here, I'll take you through each day of our magical experience, sharing our gratitude and happiness throughout.
Our journey began the moment we landed at Athens airport. We were warmly welcomed by an English-speaking guide who whisked us away in a modern air-conditioned vehicle to one of the most luxurious hotels in the city. Athens, a city that embodies a unique blend of modern and ancient, awaited us with open arms.
We spent our first evening strolling through the historic streets of Plaka, indulging in local shops, and enjoying a delectable Greek dinner at a charming restaurant. The ambiance was already romantic, setting the stage for the days to come.
Day 2: Athens City Tour & First Class Dinner
Day two brought with it the promise of adventure and exploration. We embarked on a full-day tour of Athens in a lavish vehicle, marveling at iconic landmarks such as the tomb of the unknown soldiers, the Panathenaic Stadium, and the temple of Zeus.
The history and culture that surrounded us were awe-inspiring. As the evening descended, we freshened up and headed to the internationally acclaimed gourmet restaurant, Spondi, for a first-class dinner. It was a culinary journey that delighted our senses, making our honeymoon even more special.
Day 3: Flight to Santorini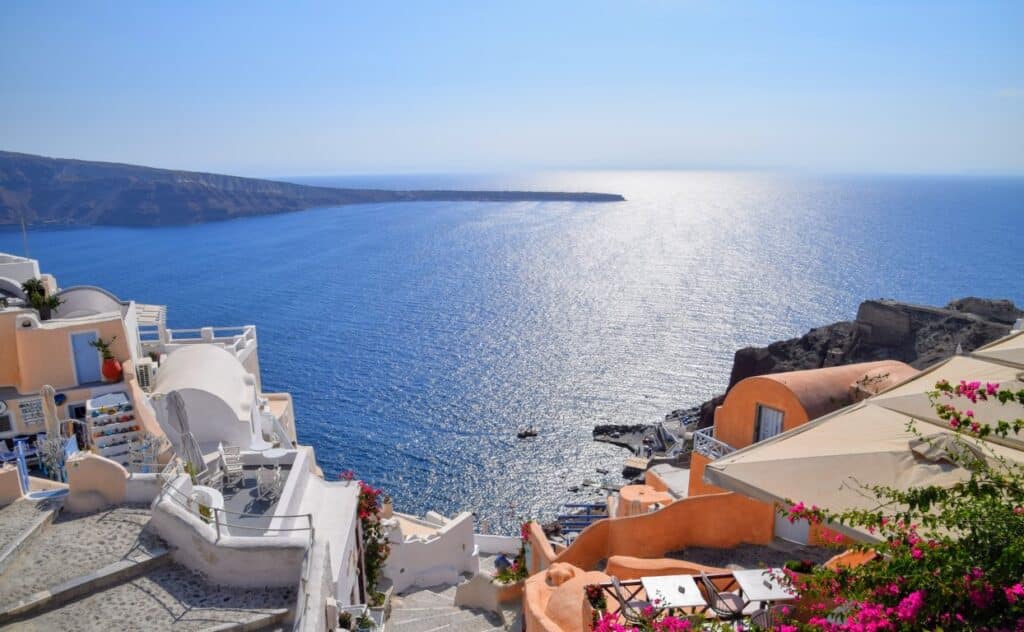 The third day marked the beginning of the Santorini leg of our journey. After a leisurely breakfast, we were transferred to Athens airport for our flight to Santorini. Upon our arrival, a local representative warmly welcomed us and escorted us to another charming hotel. We were immediately captivated by the breathtaking Caldera views. The rest of the day was spent taking in the romantic ambiance of Fira, as we wandered through its enchanting streets hand in hand.
Day 4: Free Day in Santorini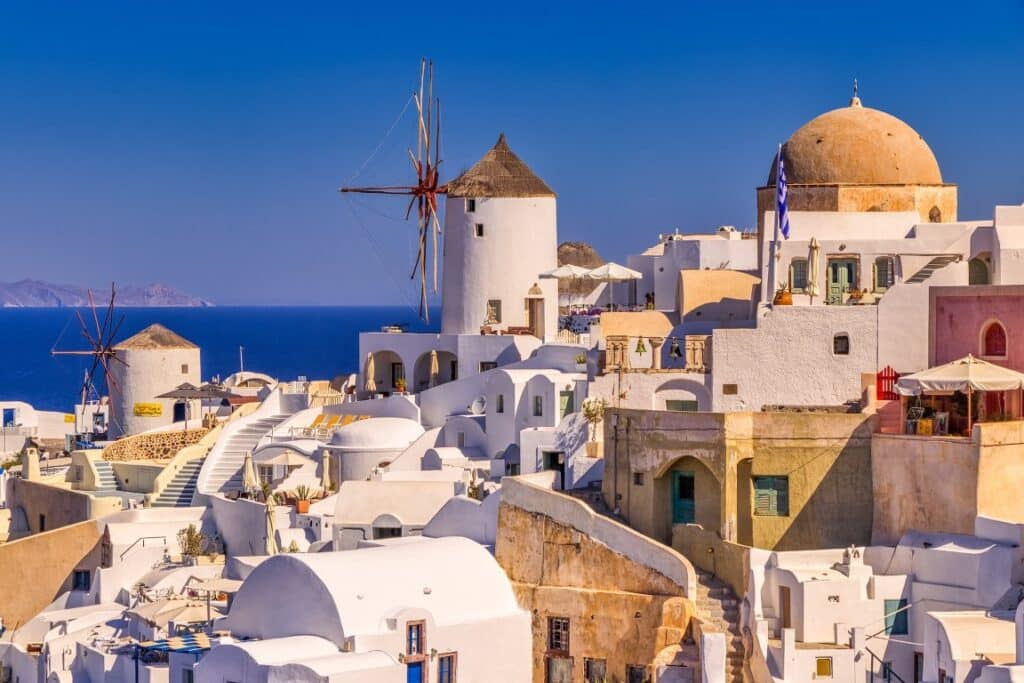 Waking up to the magnificent Santorini sunrise was a true blessing. Our hearts soared as we gazed upon the majestic view. After breakfast, we were free to explore the town of Fira and descend to the beautiful beaches on the southeastern coast. The organized beaches, complete with umbrella and beach bars, offered us the perfect opportunity to unwind. We had the freedom to choose our own adventure, and it was pure bliss, thanks to this custom trip.
Day 5: Catamaran Sunset Cruise
The fifth day was an eagerly anticipated highlight of our Santorini experience – the Catamaran Sunset Cruise. An air-conditioned coach picked us up and transported us to the port where a beautiful catamaran awaited. Sailing past Akrotiri, we took a dive into the hot springs and the red beach, even enjoying some snorkeling.
The day was filled with excitement and adventure. A sumptuous BBQ meal prepared by the crew on board added to the delight, and we concluded the day in the middle of the Aegean, watching the enchanting sunset of Santorini. It was a moment of pure magic, etching itself into our hearts forever.
Day 6: Flight back to Athens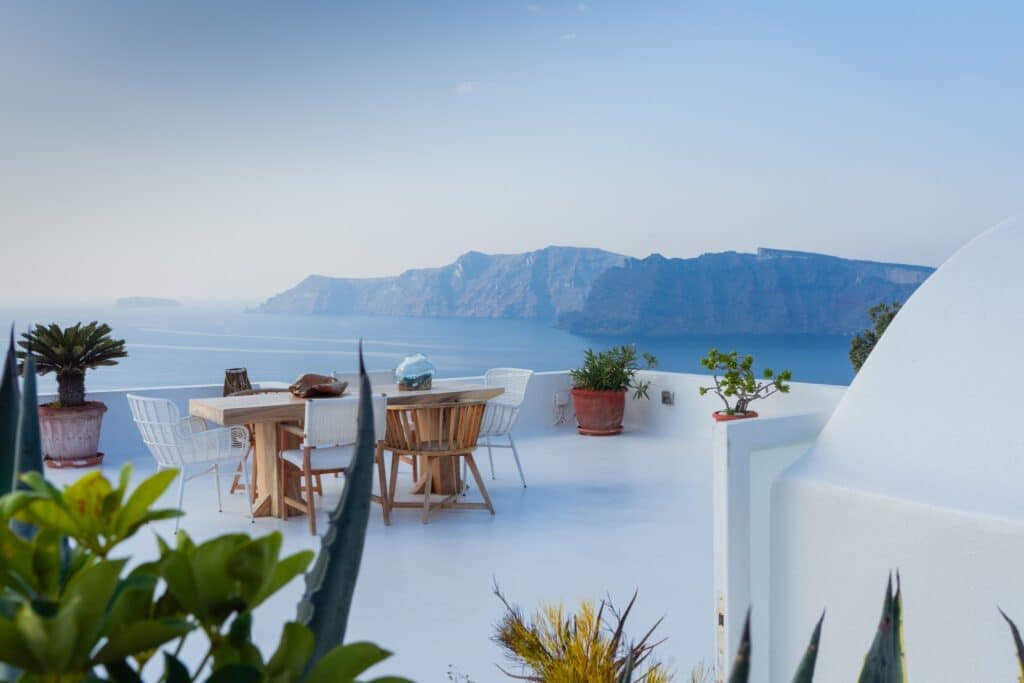 The final day of our honeymoon in Santorini and Greece had arrived. After a delightful breakfast, we reluctantly checked out of our Santorini abode and were transported to the airport for our flight back to Athens, from where we would begin our journey home. With a few hours to spare, we indulged in some last-minute shopping and bought souvenirs to commemorate our unforgettable stay in Athens and Greece. As we collected mementos of our time in this beautiful land, our hearts overflowed with gratitude and happiness.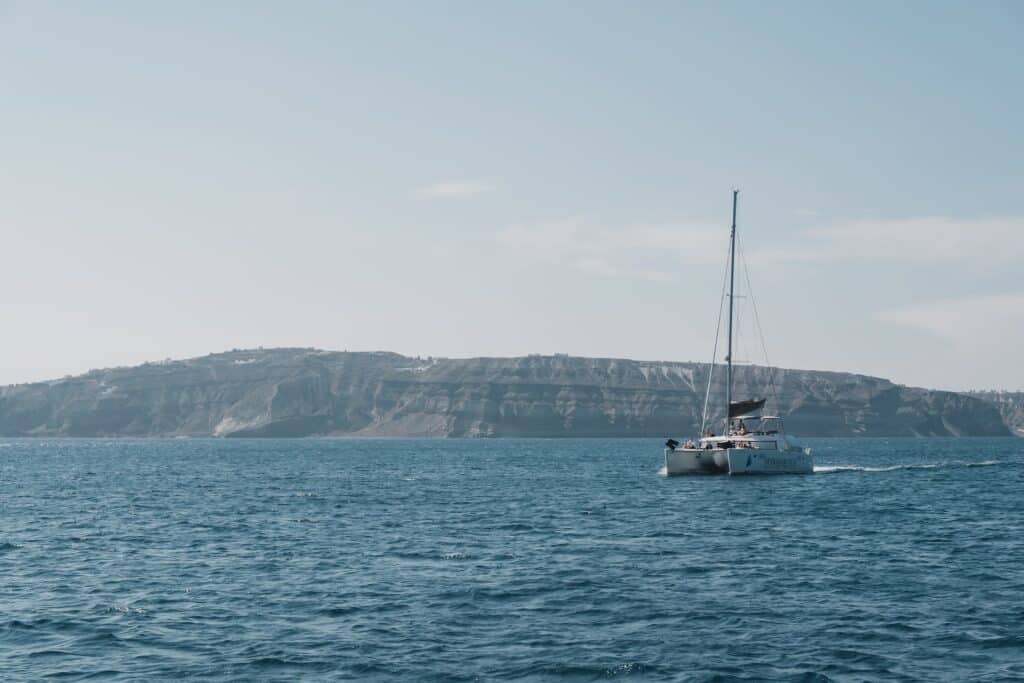 Our Santorini honeymoon, courtesy of the Eros Santorini Honeymoon Package, was a love story etched in time. From the moment we set foot in Athens, to our breathtaking experiences on the island of Santorini, every day was a chapter of romance, adventure, and gratitude. The sights, the cuisine, and most importantly, the love we shared, were all part of a magical experience that we will cherish for the rest of our lives. Santorini, with its awe-inspiring sunsets and serene beauty, will forever hold a special place in our hearts.
As we boarded the plane back home, we left with full hearts and a deep sense of appreciation for the love that had brought us together and the beautiful journey we had just begun as husband and wife. Greece, you were the perfect start to our forever love story, and we are eternally thankful for this incredible experience that brought us closer together and created memories that will last a lifetime.
Check out Baboo Travel's custom honeymoon itinerary to Greece:
Plan your next dream trip with one of our hand-picked, highly experienced, licensed, and insured Local In-destination Experts!