Every time we gather around a table to eat, we perform one of humanity's most important social activities. Food connects us with others, with the world around us, and with ourselves. Let's explore these connections, as well as the impact food can have on travel, economies, ecologies and society.
Gastronomy is one of the most important parts of the travel experience. New flavors connect us with other ways of living. They enrich not only our taste buds, but also our knowledge of other cultures.
I don't know about you, but I think I can remember a dish (or several) from every country I've traveled to: shakshuka, made with eggs and vegetables, from Palestine; Kachapuri cheese bread from Georgia; lomo saltado from Peru; sushi from Hokkaido; fish tacos from Baja California; or the most delicious hamburger in the world, which I devoured in New York City.
It was precisely on a trip combining kayaking and gastronomy in Sweden — where I learned to smoke and marinate salmon — that I met Jim Kane, a traveler who's enthusiastic about all things' gastronomy.
Jim is the producer and host of the series "The Food Principle," which will air on public television in the United States next year. We took the opportunity to speak with him about a topic that ties in with Baboo's values of respect for diverse cultures and traditions.
Many of our Local Destination Experts are travel specialists who include gastronomy as an essential part of their tours. At the end of the interview, we recommend 5 trips for foodies that you'll find on Baboo.
Bon voyage, et bon appetit!​
Hi Jim. Can you tell us how food connects people?
Across continents and cultures, food is humanity's greatest shared bond and universal language.
While food ingredients, preparation and traditions may differ greatly from country to country, or even region to region, the magic of food is that we all share the emotions and memories, the bonds and associations, that it evokes. Who hasn't been transported back to a favorite childhood memory through taste and aroma? Who hasn't celebrated or mourned with foods forever linked to the occasion?
And because we share these food associations at our core, differences in ingredients, preparation, and tradition serve to spark curiosity, spark conversations, generate empathy and encourage sharing.
The very act of preparing and sharing food is itself intimate. It requires trust and evokes a sense of welcome and hospitality. Noted Spanish humanitarian and chef José Andrés says it best: "you have to build longer tables, not higher walls."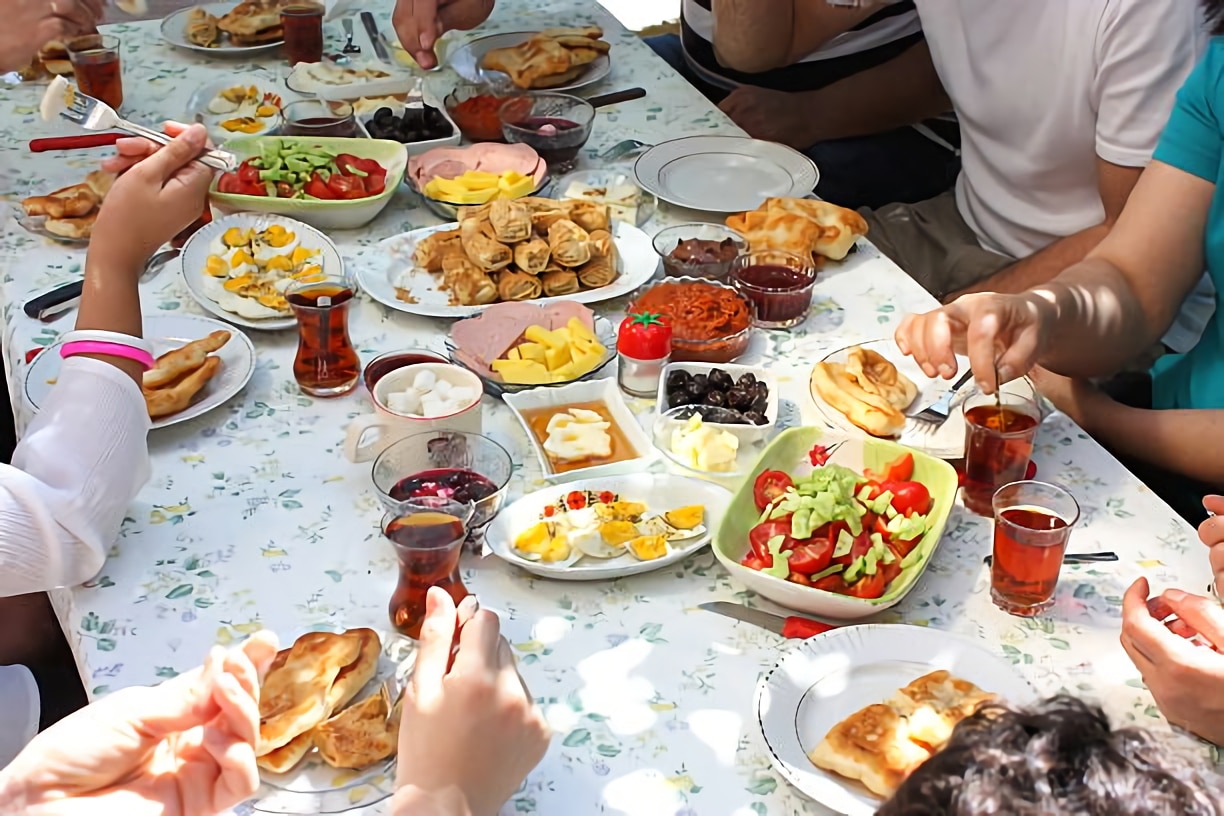 Do you think that, on a trip, food can connect you with a destination's culture?
Absolutely. Not only does food break down language barriers and foster connections between people, but it paves the way for travelers to engage with the landscapes, flora and fauna, and history of the destination.
To give a specific example, the Basque Country is one of my favorite corners of Europe. There, as elsewhere, food is inseparable from a deeper sense of place. When I think of a sublime ham, what comes to mind is the pigs of Euskal Txerria de Pello and Maite, which graze on the wooded slopes that descend from their 18th century farmhouse, near Tolosa.
The intense nutty aroma of Idiazabal cheese takes me to Ordizia's open-air market, which has operated every Wednesday since 1512. The villagers have a deep reverence not only for this world-class sheep's cheese, but also for the dozens of iconic seasonal products and artisan producers in the region.
At the same time, I think of the bustling Basque cider houses, where Idiazabal cheese is served alongside quince on rustic wooden tables at the end of the meal. When I think of cider, I think of txakoli, another fermented product, and the picturesque vineyards that run down to the coast — not to mention the Basque seafood or the pintxo culture.
The territory and traditions, the geography and the geopolitics, the edible diversity and the seasonality: food makes it all the more accessible, visceral and memorable.
"Across continents and cultures, food is humanity's greatest shared link and universal language"
Can different approaches to gastronomy change the world?
Together, food and travel offer unparalleled potential to engage people, connect cultures and catalyze meaningful change in the world.
To do so, food and gastronomy must inspire action on a grand scale. And while many chefs, small producers and global food activists are already leading the charge, we need to inspire and engage foodies of all kinds to join in this mission to plant a better planet. One of the best ways to open hearts and minds is through travel.
I've found that, using food as a lens, we can better understand many of the global challenges of our time, from climate change to biodiversity loss, from health to social justice. And by using food as a guide, we can foster meaningful change.
Here are two quick examples of what I mean. In Denmark, the concept of Samfundssind has helped the Danes pull together and support each other during the Covid-19 pandemic. Roughly translated as community-mindedness, it is the idea that selflessness, solidarity, and support should be extended to neighbors and strangers in need. Cooks, food producers and food system activists have been at the center of this Danish movement. The question is: how can others learn from this and adapt it elsewhere in the world?
Another example is Peru. Peru is expected to be the third most affected country in the world by climate change. Drought is already affecting agriculture in the Andes as glaciers shrink and retreat. Can resilience be built into the food system in time to counteract these negative effects of climate change? In the Sacred Valley, a comprehensive project is underway involving chefs, biologists, agronomists and indigenous farmers to crossbreed hundreds of native potato varieties with their wild counterparts to make them more drought-resistant, nutritious and diverse. If this works, it could influence the way the world farms.
"Across continents and cultures, food is humanity's greatest shared link and universal language"
A 7-day cultural immersion where you can tour Lima, Cusco and the Sacred Valley while both savoring and learning how to cook the most representative and tasty recipes of the Andean country.
A memorable tour to get to know California's most famous wine regions, visiting wineries and learning first-hand about winemaking processes and techniques.
A tour where you can taste delicious wines and cheeses from local producers, visit a cactus plantation and check out an opal mine. In addition, you can also explore the charming colonial city of Querétaro.
Learn about the history, culture, traditions and, of course, gastronomy of the Basque Country with this tour of San Sebastián. You will share a meal in a "society", an exclusive and private cooking club.
A 3-hour gastronomic walking tour of the world-famous Nishiki Market. You'll visit family-run stores and stalls, and then enjoy an incredible 7-course lunch in true Kyoto style.