Are you ready to take your family on the ultimate adventure? Look no further than these five thrilling theme parks! From heart-pumping roller coasters to immersive themed lands, there's something for everyone.
Get ready to scream with excitement and create unforgettable memories with your loved ones as we explore the best theme parks in the world. Trust us, this is one family vacation you won't want to miss!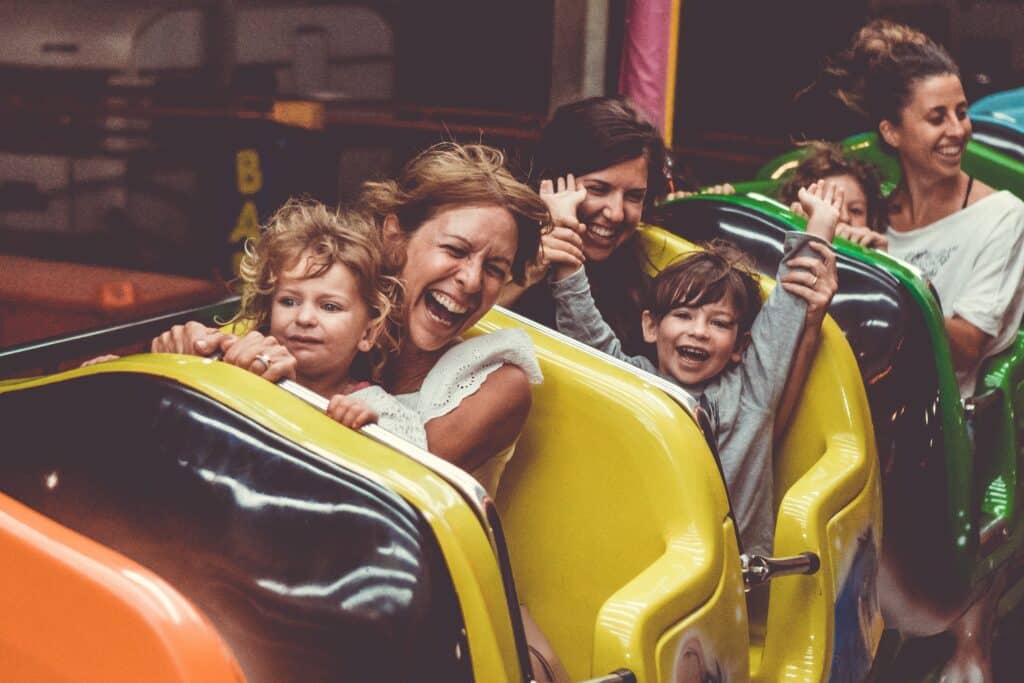 If you're looking for a family-friendly activity that will get your adrenaline pumping, look no further than a theme park! There are plenty of thrilling rides and attractions to keep everyone entertained, and we've rounded up some of the best ones for you to check out.
From roller coasters to water slides, there's something for everyone at a theme park. And if you're looking to add a little more excitement to your trip, many parks also offer behind-the-scenes tours or VIP experiences.
So whether you're looking for a death-defying thrill ride or just want to have some fun in the sun, be sure to visit one of these top theme parks:
Disney World is one of the most popular vacation destinations in the world. Families from all over come to experience the magic of Disney. There are four theme parks at Disney World: Magic Kingdom, Epcot, Hollywood Studios, and Animal Kingdom. Each park has its own unique attractions and experiences.
Magic Kingdom is the original theme park at Disney World. It is home to classic rides like It's a Small World and Pirates of the Caribbean. Visitors can also meet their favorite Disney characters throughout the park.
Epcot is a theme park that celebrates human achievement and culture. Visitors can tour different countries in the World Showcase or ride futuristic rides in Future World. Epcot also has a popular food & wine festival each year.
Hollywood Studios is a movie-themed park with rides based on popular films like The Twilight Zone Tower of Terror and Star Tours. Visitors can also experience live shows and street performances throughout the park.
Animal Kingdom is a nature-themed park with animal encounters, rides, and shows. Guests can explore the African savanna on the Kilimanjaro Safaris ride or see live performances of animals in the Festival of the Lion King show.
There's no place like Universal Studios for an unforgettable family adventure. From the moment you step into the park, you'll be transported into a world of excitement and entertainment.
Universal Studios have branches around the world, including in Asia countries like Singapore.
With so many thrilling rides and attractions to choose from, everyone in your family will have an amazing time. For the daring, there are spine-tingling roller coasters like The Incredible Hulk Coaster and Hollywood Rip Ride Rockit. Or take a journey through time on the Jurassic Park River Adventure ride.
Younger children will love meeting their favourite characters from movies and TV shows, like SpongeBob SquarePants, Shrek and The Minions. And don't forget to catch a live show featuring some of Universal Studios' most popular characters!
Whether you want to experience heart-pounding thrills or simply enjoy spending time with your family, Universal Studios is the perfect place for an unforgettable adventure.
Everland Korea is without a doubt one of the best family adventure parks in the world. From thrilling roller coasters to adorable animal exhibits, this theme park has something for every member of the family.
The T-Express, Everland's signature wooden coaster, will leave you screaming with excitement as you reach speeds of up to 104 km/h and experience heart-stopping drops. For those looking for a more relaxed ride, take a leisurely stroll through Zootopia where you can see lions, tigers, bears and even pandas!
Kids will love exploring Lost Valley on an interactive safari ride where they can come face-to-face with giraffes and elephants. And when it's time to cool off from all that excitement? Head over to Caribbean Bay waterpark which boasts some of the most exhilarating slides around. With so many activities packed into one location it's no wonder why Everland Korea is considered one of the best theme parks in the world!
Six Flags Great Adventure
In Jackson, New Jersey, Six Flags Great Adventure is the perfect destination for families who are looking for an exhilarating vacation. The theme park features world-renowned roller coasters, such as Kingda Ka and El Toro, as well as other rides and attractions that will keep everyone entertained. There is also a water park on site, Hurricane Harbor, which is perfect for cooling off on hot summer days. Plus, with a variety of dining options and shops, there is something for everyone at Six Flags Great Adventure.
This park is located in Carlsbad, California and is geared towards families with young children. With over 60 rides, shows, and attractions, there is something for everyone in the family to enjoy. Plus, kids can burn off some energy by running around in the massive Lego play area.
Tips for Making the Most Out of Your Adventure Park Experience
If you're looking for an adrenaline-pumping day out, an adventure park is the perfect place to go. With so many different rides and attractions on offer, it can be hard to know where to start. That's why we've put together our top tips for making the most out of your adventure park experience.
1. Plan your visit in advance
To make sure you don't miss anything, it's a good idea to plan your visit in advance. Look up which rides and attractions are available at the park and decide which ones you want to experience. This will help you make the most of your time at the park.
2. Buy your tickets online
You can often save money by buying your tickets in advance online. This way you can avoid queues at the ticket office on the day. Many parks also offer discounts for groups, so it's worth checking this out if you're visiting with family or friends.
3. Arrive early
To beat the crowds, aim to arrive at the park as soon as it opens. This way you'll be able to enjoy the rides before everyone else arrives. And if you want to guarantee getting on your favorite ride, head there first thing in the morning!
4. Take breaks throughout the day
An adventure park can be an intense experience, so make sure you take some time out to rest and recharge. Head to a restaurant for lunch or take a seat in the shade.
Start your family's adventure today! Have a safe trip.
Plan your next dream trip with one of our hand-picked, highly experienced, licensed, and insured Local In-destination Experts!